Bollywood has a Barbenheimer moment, giving India's film industry its biggest weekends ever
Mirroring Hollywood's revival with 'Barbie' and 'Oppenheimer', Bollywood's fortunes have finally turned around with four films over a fortnight, thanks to people flocking to single-screen theaters in small-town India
The mushy love story 'Rocky Aur Rani Kii Prem Kahaani' started India's box office bonanza on July 28 and a fortnight later, the dam burst with a jingoistic melodrama, 'Gadar 2: The Katha Continues', Tamil film-demigod Rajnikath-starrer 'Jailer', and the satirical 'OMG 2'. The business echoed Hollywood's breakout summer with 'Barbie' and 'Oppenheimer', which apparently drew moviegoers who hadn't visited a theatre since Covid-19's outbreak. This is good news for the country with the largest film production in the world. It has over 20 billion rupees ($240 million) riding on this entertainment sector this year. During the first week of its release, 'Gadar 2' led the way with 261 crore rupees ($31 million); 'Jailer' made 235 crore rupees ($28 million); and 'OMG 2' made 79.25 crore rupees ($9.5 million). A fortnight earlier, 'Rocky aur Rani…' made a global 143 crore rupees ($17 million). Both the Producers Guild of India (PGI) and the Multiplex Association of India (MAI) announced that August 11–13 was their busiest weekend since theaters reopened after the pandemic. It drew over 21 million moviegoers to theaters across the country, the highest combined admissions record in the last decade.
"A massive achievement like this is the result of an incredible filmmaking team, with cast and crew coming together to create a truly special movie-going experience,"
PGI president Shiasish Sarkar said in a press statement.
"The turnout at theatres has infused a new energy in our industry; audiences are responding in numbers we have not seen for a very long time. Even the early morning shows are getting sold out. This weekend has been a wonderful experience for people who love mainstream Indian films"
.
The icing on the cake was Rajnikanth's thriller 'Jailer' which has been dubbed in Indian languages Hindi, Telugu, Malayalam and Kannada. Rajnikanth, who has fans in Japan and Germany, was back on screen after two years, adding to the draw; some companies gave their employees the day off to go and watch the film.
"Cinemas across the country would like to thank and congratulate our filmmakers and studios for pushing the boundaries to deliver unforgettable storytelling,"
MAI president Kamal Gianchandani said.
"We look forward to this momentum continuing for the rest of 2023."
Bollywood Reigns
For a while, the industry was nervous because since Republic Day and Shah Rukh Khan's record-breaking 'Pathaan', there had not been much to cheer. The big-ticket summer releases have raised hope. 'Rocky aur Rani…' made at a budget of 16 crore rupees ($19 million) witnessed euphoria generated by groups of women across urban centres, including tier-2 and tier-3 towns, gave the box office its initial momentum.
"We have been craving for a good Hindi film for a long time. In the past few weeks, I haven't seen a big release that too with known stars,"
trade analyst Taran Adarsh told the Indian Express.
"That vacuum will be filled by 'Rocky Aur Rani'."
Audience Segmentation
In India, there is a distinct segmentation of audience. Hollywood is still restricted to top six-odd cities including Delhi, Mumbai, Kolkata, Chennai, Bengaluru and Hyderabad, where 'Barbie' and 'Oppenheimer' have been crowd-pullers. In some places, these films had unearthly hour show timings like 3:30 am in Delhi. But India's growing middle-class in tier-2 cities like Lucknow, Jaipur, Nagpur and Pune are lapping up 'Rocky Aur Rani…', 'Gadar-2' and 'OMG 2'. The last film, which made a billion rupees ($12 million) in the Independence Day week, provided good news for its star Akshay Kumar, who had a string of flops in 2022 and was in the news only because he reverted to Indian citizenship on Independence Day. He had
renounced
it in 2011 to become a Canadian national to promote that country's tourism potential.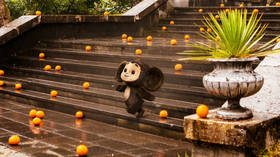 'Rocky aur Rani…' provoked a debate about ageism with a kissing scene between 87-year-old Dharamendra and 72-year-old Shabana Azmi, while 'OMG 2' tackled the stigma of sex education with wit and high emotions, much to the delight of small-town India. 'Gadar-2' on the other hand, is a sequel to a 2001 drama that sociologist Shiv Visvanathan
categorized
as "popcorn nationalism". The film, produced by Zee Studios, released in 20 European countries, and ran to packed houses in Poland and Estonia last weekend.
"We are humbled by the response which shows that the film is being celebrated like a festival,"
Shariq Patel, chief business officer, Zee Studios, told RT, adding that it came as a big boost for single-screen cinemas. Up to 2,000 of them shut down during the pandemic. Many of these theaters screened shows at 1:00 and 4:30 am for audiences in the Hindi heartland, including Bihar, Uttar Pradesh, Madhya Pradesh, Delhi and Haryana. The film seeks to evoke memories and passions of the 1971 India-Pakistan war that led to the birth of Bangladesh, even though the rest of the world has moved on. The sequel's release was choreographed in the runup to the 77th Independence Day celebrations in both nations as the wounds of the Partition of British India into two countries in 1947 remain to be healed.
"Gadar 2 loses no opportunity to play up the us-versus-them binary, with the guys across the border generally coming across as fiends without human feelings,"
film critic Saibal Chatterjee
said
.
"But occasionally, the film develops the sense to throw in a stray benefactor here and a do-gooder there as the father and son pair try to get out of Pakistan in one piece"
. Despite its hackneyed theme 'Gadar 2' has revived single-screen theaters in India, where frontbenchers are paying as less as 110 rupees ($1.3) for a ticket in the Hindi heartland, whereas a south Delhi film buff has to  fork out 2,300 rupees ($27.6) to watch Barbie in a multiplex. The wealth gap in India has never been more stark.