Catalina Aircraft relaunches 'iconic' flying boat, eyes military sales
A company called Catalina Aircraft plans to launch a modernised version of the Consolidated PBY Catalina flying boat, an aircraft notable for extended service during World War II.
Florida-based Catalina, which holds type certificates for the PBY-5A Catalina with both US and Canadian civil aviation regulators, plans to disclose the reboot on 25 July at the AirVenture Oshkosh air show in Wisconsin.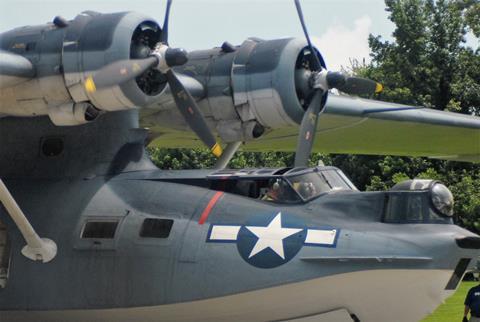 "Interest in the rebirth of this legendary amphibian has been extraordinary," says Lawrence Reece, president of Catalina. "The capabilities this modernised iconic platform offers, being capable of performing so many unique missions, and in a variety of market segments, speaks to the heritage of the Catalina product line."
The company is calling the updated flying boat the Next-Generation Amphibious Aircraft (NGAA) Catalina II. Reece says the new-production model will feature modern engines and avionics that will give the craft "capabilities no other amphibian can provide today".
Pricing has not been disclosed, nor has the company confirmed orders. However, the firm anticipates beginning deliveries in 2029.
The US Navy (USN) placed the original Catalina order in 1935, covering 60 PBY-1s marked for maritime patrol, search and rescue, and bombing missions. The initial models were powered by two Pratt & Whitney R-1830-64 piston engines. Other US operators included the US Coast Guard and US Army Air Corps.
In total, 3,276 PBY Catalinas were built, according to the USN. The type also saw wartime service with the UK, Canada, Australia, New Zealand and Russia.
Consolidated produced aircraft for the USA and Russia at facilities in New Orleans, San Diego and Buffalo. Catalinas destined for the UK and Commonwealth allies were produced by Canadian subsidiaries of Boeing and Vickers, according to the USA's National Naval Aviation Museum.
PBYs played a critical role during World War II, helping disrupt German U-boat operations in the Atlantic and locating the Japanese naval fleet steaming toward the Midway islands – a discovery preceding what proved among the most-decisive battles in the Pacific theatre.
Several airlines also operated Catalina flying boats, including Pan American World Airways and Australian carrier Qantas, which used the type from 1943 to 1945 to operate weekly nonstop flights between Perth and Colombo in Sri Lanka. At an average speed of 110kt (203km/h), those 3,592nm (5,652 km) flights took up to 32h, making them the longest-duration commercial routes at the time, according to the Catalina Preservation Society.
No PBYs remain in active military or commercial service, according to Cirium data. But Catalina Aircraft says it has been "supporting the continued airworthiness of legacy Catalinas around the world for the last 14 years".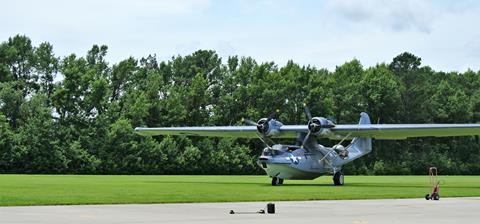 The company thinks the time is right to relaunch the venerable flying boat.
"Our senior management team made the decision to formalise a production restart programme," Catalina says, citing "positive interest" from unnamed "governments, militaries, agencies and commercial operators".
The company says NGAA Catalina IIs will be capable of operating from oceans, rivers and lakes, and from tarmac, dirt and grass runways.
The civilian variant will have maximum take-off weight (MTOW) of 14,515kg (32,000lb), with capacity for 34 passengers or 5,443kg of cargo. The military version will have an expanded MTOW of 18,143kg.
The US military has expressed interest in water-capable aircraft in recent months. Special Operations Command is exploring a seaplane variant of Lockheed Martin's C-130J transport, while the Defense Advanced Research Projects Agency is developing a heavy-lift seaplane known as the Liberty Lifter. General Atomics and Boeing subsidiary Aurora Flight Sciences are participating in that project.
Defence giant Lockheed Martin has also invested in start-up Regent Craft, which is developing a wing-in-ground-effect vehicle (it calls them "seagliders") with potential military applications.
Such projects are geared toward helping the Pentagon prepare for potential conflicts in the Indo-Pacific region – where vast swaths of open ocean and small, lightly developed islands present substantial challenges to military planners.