CBSL Governor threatens Sunday Times Editor and Wijaya Newspapers Chief over news item!
Governor of the Central Bank of Sri Lanka (CBSL) Dr. Nandalal Weerasinghe has made threatening phone calls to the Editor of the 'Sunday Times' Newspaper and the President of the 'Wijaya Newspapers' Company over a news item written by its Business Editor, Senior Journalist Bandula Sirimanna.
The news item, titled 'New Revelations Over SL Foreign Debt Default,' published yesterday (21) revealed that last April 12, Sri Lanka officially announced a debt default on its forex repayments in the backdrop where the government was expecting to receive US$ 10.7 billion through debt and projects to strengthen the country's forex reserves. The debt was expected to be procured from several overseas parties including India, China and Qatar, the news item added, unravelling the possibility of the country not being compelled to announcing a debt default at all, had the affair been successful.
An outburst CBSL Chief, on the other hand, contacted Sinha Ratnatunga, the Editor of Sunday Times, and Ranjith Wijewardena, the President of Wijaya Newspapers, impulsively confronting that the news item is false.
"These are news items planted by people like former CBSL Governor Ajith Nivard Cabraal. Don't be fooled by their lies. What I am doing is exactly right. And that Bandula Sirimanna is Ranil's man. He is against me anyway. So, don't allow such lies to be published again," Weerasinghe the CBSL Governor told the newspaper agency, according to sources.
Sirimanna responded to a query by the Sunday Times Editor and the Agency Chief stating that the news item he wrote is factually accurate and that he accepts full responsibility for its content.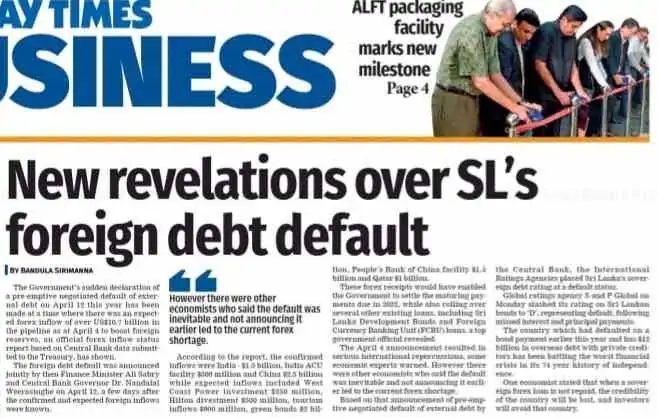 The veteran senior Journalist told LNW that he never published a false news and that he will stand for the content he writes. Mr. Sirimanna also recalled that Ajith Nivard Cabraal, Arjun Mahendran and Indrajith Coomaraswamy, the predecessors to Weerasinghe, were very friendly and cooperative with the media, and even provided relevant information through electronic mail upon any inquiry regarding such affairs. Dr. Weerasinghe, the current CBSL Chief, on the other hand, has never responded to the media despite several attempts to contact him for information, Sirimanna revealed.
Sirimanna also noted that he is politically loyal to no one and that he is doing his job well.
Needless to say, that it is better if Dr. Weerasinghe fulfills his duties properly as the Governor of the CBSL rather than lecturing media personnel on how to do their job. We as the media care less, should you find this disclosure threatening as well.