Debt is SL's 'most dramatised' story unnecessarily: Dr. P.B. Jayasundera 
The so called economic super star Dr Jayasundara in March last year told a news paper  2021 . One year later we don't even have money pay for even the essentials? Where is Dr PB Jayasundara and Prof Lakshman,  SR Attygalle the economic assassins of Sri Lanka led by Gotabaya Rajapakse ? Happily spending their retirement at the expense of the taxpayers. 
Reveals external debt declined by $ 500 m in 2020Says home-grown measures taken to service debt successfullyExpects exchange rate to be realistic, taking strength from improving economic and macro fundamentals
Secretary to the President and former longstanding Treasury Secretary Dr. P.B. Jayasundera
Secretary to the President and former longstanding Treasury 
Secretary Dr. P.B. Jayasundera yesterday described Sri Lanka's debt as the "most dramatised" story, asserting it was unwarranted given the country's unblemished track record of repayment.
Speaking at the 'Colombo Development Symposium' organised by Biznomics, Dr. Jayasundera said that as a responsible Government it had approached debt servicing and management responsibly amidst multiple challenges. 
"If a country or a company is in debt, the first thing you do is stop borrowing. Companies get people to invest or reinvest. Postelection we started looking at the debt issue more seriously in the same way as the IMF. As a result the Government has recognised the Treasury Secretary is the best positioned and responsible to manage this task in a politically-sensitive economy and a democratic environment," Dr. Jayasundera said. 

He said that President Gotabaya Rajapaksa via the policy document 'Vistas of Prosperity' committed to reduce the budget deficit as a percentage of GDP to 4% in the medium term from 10% at present. This will be done by not reinforcing a higher VAT but assuring to maintain the status quo of the new tax regime introduced.  
For the next five years, income tax will remain at gazetted rates, while VAT will be 8%. There will be no other new taxes. Customs taxes will be rationalised whilst a more efficient, transparent and compliance friendly tax regime will be maintained by the Government.
Dr. Jayasundera disclosed that in 2020 total external debt had declined by $ 500 million, which he said was a unique achievement whilst even in rupee terms foreign debt had seen a drop. It was pointed out that the Government's aim was to reduce the foreign component in overall public debt from 45% to 24% in the medium term. This will give more space for private sector borrow from overseas, he added.
Focusing on the financing of the debt, Dr. Jayasundera said innovative home grown strategies had been pursued by the Government.
He said that annually Sri Lanka had a debt servicing of $ 5 billion due to multilateral donors and investors of International Sovereign Bonds, etc. "We are talking to World Bank and Asian Development on the better management and maximisation of debt from multilateral donor agencies," he said.
"State banks have been mobilised to raise borrowing from abroad as well. The private sector banks too should go for same," Dr. Jayasundera said. During his presentation he also articulated the issues involved in seeking support from the IMF but assured that the Government had managed the debt servicing challenge well and continued to honour all liabilities.
He also said that the forex market was irrational, leading to a spike in exchange rate, which had an adverse impact on foreign debt servicing. However he expressed confidence of the market being orderly and the exchange rate being realistic, taking strength from improving economic and macro fundamentals.
"By April the rupee will strengthen as we continue to improve the management of foreign exchange reserves with robust exports and other inflows and checking outflows with curbs on unnecessary imports via the policy of import substation," he added.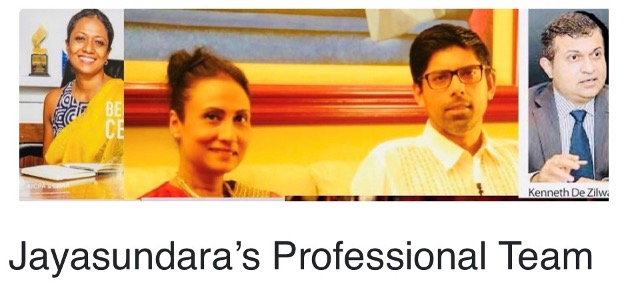 Dr. Jayasundera also recalled that for the first time in history the country's finances were governed sans a proper budget but via four successive Vote on Accounts whilst nearly Rs. 250 billion worth of unpaid bills on the previous Government's contracts were settled. In parallel the public investment drive wasn't compromised either, he added. For the current Plight of all Sri Lankans – PB Jayasundara and Team must answer. The President must press for action against them through the court system . That is what the Public want .