Dhammika Perera says his dream for DP Education come true
Dhammika Perera, Ruling Party MP, business magnet and founder of DP Education, said his dream for DP Education when he initiated it has now come true, in a candid statement publicised today (05).
The G.C.E. Ordinary Level certificate is the primary educational qualification in Sri Lanka. Mathematics, among other core subjects being chosen, takes the first place there.
Whilst developing our mind, Mathematics also gives us many benefits, for Mathematics speeds up the mind and teaches us to solve complicated problems.
By using the adequate teaching methods for this subject, which makes us smarter, learning becomes easy and enjoyable.
It is in this backdrop have we introduced the free course of Mathematics at DP Education from Grade 01 to Grade 11 by deploying best teachers available in the island. This is why we conducted revision classes.
Today, the children have gained its results.
Through the programme, the children had the opportunity to study from home during the Covid period and during the crisis period when there was no electricity and schools.
The results being looked at in an analytical perspective, I observed that those who earned "A" passes for Mathematics in G.C.E. Ordinary Levels in 2020 were a 20 per cent portion of the entire pool of students.
But in 2021, the number of students who earned "A" passes has increased up to 29 per cent.
I started DP Education with seeing a dream.
Today, that dream has come a reality.
May we make that dream the future dream of the country.
I convey my sincerest gratitude to the entire generation of children in this country who made this commitment, to the teachers and staff of DP Education, to the dedicated school principals and teachers, and to the parents.
Thank you!
Dhammika Perera
Founder. DP Education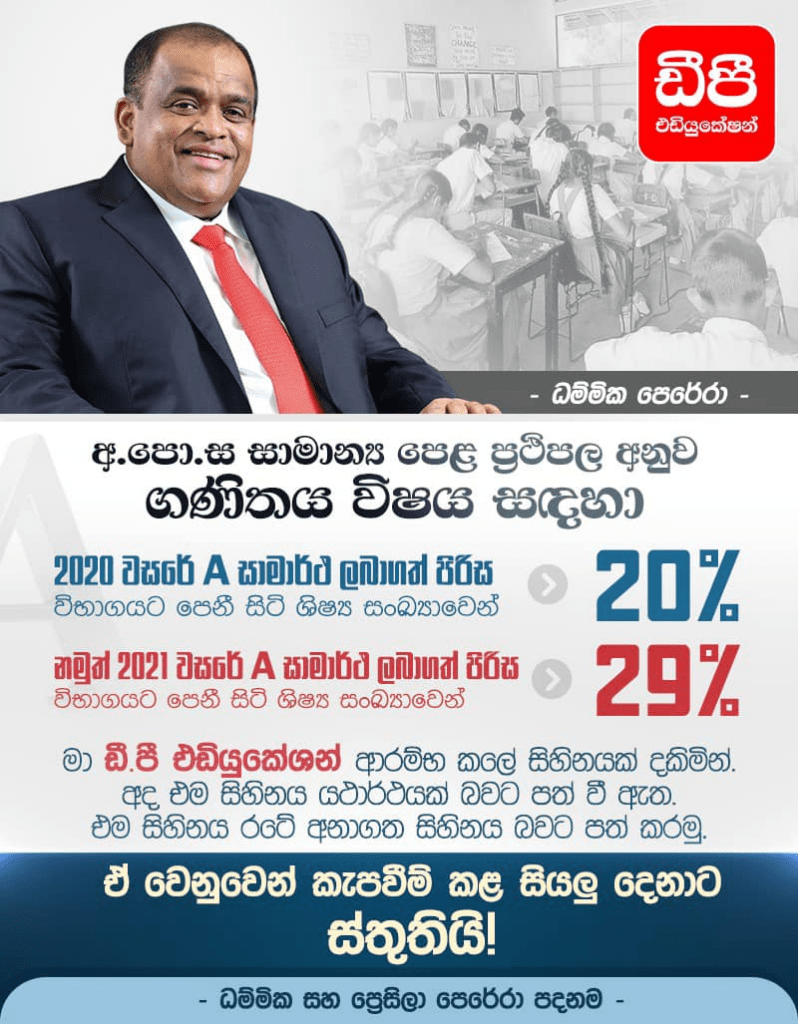 MIAP