Dr Mary Srikanthi Handy
Dr Mary Srikanthi Handy was the daughter of the famous Dr George Rajanayagam Handy who was the pioneer cardiologist of Sri Lanka and the founder president of the Sri Lanka Heart Association. She was born in 1935 and is the eldest child and only daughter of Dr. George and Mrs. Kanmanie Handy. Even as a very young lady she is known to have organized and coordinated fund-raising events for the YWCA and similar associations to help the poor.
Dr Srikanthi had her primary and secondary education at Ladies' College, Colombo. She obtained her MSc from the University of Bradford, UK and joined the University of Sussex, UK for her doctoral research on motor neuron disease. She was awarded the PhD for her thesis on "Putative protein abnormalities in the amyotrophic lateral sclerosis" which also generated several scientific papers on related scientific matters in peer reviewed journals.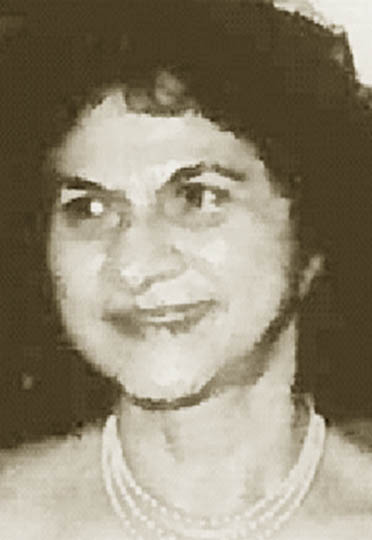 She has two brothers, Dr John Lakshman Handy, consultant anesthetist in UK, and youngest brother, Emeritus Professor George Handy, University of Southern Carolina, USA.
Dr Srikanthi worked as a medical researcher in the university department in the UK for over 30 years and returned to Sri Lanka in the early 1990s to care for her father Dr G R Handy who was ailing at the time.
Dr G R Handy passed away in 1995 and it was then that Dr Srikanthi decided to harness her resources and energies into philanthropic projects to commemorate her father's memory. She adored her father and used to relate how he would take her as a young girl on his hospital ward rounds, casualty and home visits and describe the medical condition of the patient and how he planned to tackle the problem. One had the impression that she would have liked to have pursued a career in medicine, but it was not to be so.
Her lasting legacy will be her philanthropic efforts in her father's name.
She founded the Dr. G R Handy Foundation that donated a state-of-the-art cardiology ward at the General Hospital, Colombo which she then visited daily to assist and support its maintenance.
She donated a computer laboratory to St John's College, Jaffna where her grandfather had been a principal and where Dr. G R Handy had his initial years of education.
She extended a generous hand to the Children's heart project which was run under the supervision of Dr P N Thenabadu and Dr J J Stphen. Many children with heart disease profited from this project. Later on she decided to embark on her own by establishing the Dr. G R Handy memorial trust fund.
A major target for this trust fund was the Children's ASD surgery project. When she realized that the waiting time in the National Hospital cardiac surgery lists were long, she decided to help these children by sponsoring their surgery in the private sector. She put in place an efficient mechanism to assist the patient's families, with monetary difficulties, to obtain the President's fund allocation and paid the remainder of the surgical expenses for the closure of the ASD in the private sector. Over 100 children with ASD's were assisted in this way. The patients were referred to Dr. Y. K. M. Lahie, MBBS, MS, FRCS, Consultant Cardiothoracic Surgeon who helped and cooperated with Dr. Srikanthi in this work.
 When ASD closures were transformed from thoracic surgery to device closure techniques, she provided the funds to purchase ASD devices when the General Hospital Device stocks were exhausted.
Dr. Srikanthi's special concern for children with heart disease made her decide to sponsor a pediatric heart disease ward in the institute of cardiology. Ward 70 was allocated for this, and she refurbished the ward and equipped it fully. This unit functioned very efficiently until pediatric cardiology was shifted to LRH. Dr Srikanthi was disappointed but agreed to have ward 70 as a post cardiac procedure ward.
Other major contributions by Dr. Srikanthi were to donate the funds and organize the Cardiology unit at the Teaching Hospital, Jaffna, which was named as Dr G R Handy memorial cardiology unit. It is now a full-fledged Cardiology unit, rendering invaluable service to the Northern province.
From the academic perspective, Dr Srikanthi endowed the annual Dr G R Handymemorial oration of the Sri Lanka Heart Association, now Sri Lanka College of Cardiology. She would attend the annual oration with her friends and well-wishers.
She used her personal wealth both inherited and earned and also organized fund raising events (A musical extravagance organized by Dr Srikanthi made a profit of one million rupees) to extend and expand the Dr G R Handy memorial trust fund.
Her love for her father flowed out to his village as well.
Eagle Care Project: This Project is based on the slogan "Give a child a life"
The Eagle Care Project operates in the below areas:
(Provision of scholarships at St Johns College, Jaffna for needy, academically gifted children, Improvement of educational facilities at St Johns College, Provision of financial assistance to children with medical needs, Technology enhancement programs, Mental health awareness and children with special needs etc).
She also donated a stock of bicycles to the students of that area to facilitate their school transport.
The agriculture improvement program at St. John's College is up and running. Under CTF's "Eagle Care" has been invested in this project. This project is funded by Dr. G. R. Handy and Mr. John Roy Fussey, Memorial Agriculture Improvement Fund. The primary purpose of the project was to educate the students on agricultural science and as it is related to the syllabus, the project provides practical knowledge and farming experience for the agriculture students.
In more recent years, the Dr G R Handy foundation also funded the building of a considerable amount of social housing for widows in Jaffna and sixteen houses were built in the village of Ariyalai, which was her father's birthplace.  The social housing project was facilitated through Zonta International. The ground supervision of this project was personally done by Prof Chandrika Wijeyratne who was the Zonta president at that time.
Dr Srikanthi went out of her way at time to help the patients. A case in point: A young woman with primary pulmonary hypertension who needed domiciliary oxygen to help her breath was given an oxygen concentrator and container which was fully funded by her. This equipment was passed on to three more patients.
During her final years when her health was failing and she was frail, she chose not to live in luxury with all comforts but decided to leave her assets in a trust to facilitate education for children of poor families.
Born and bred in a strong Christian family with an ancestry of priests within it as well, Dr Srikanthi would attend Sunday mass whenever she could.
Her only child, Professor Paul Rohan Mather, studied at St Thomas's College, Mount Lavinia and qualified as a chartered accountant in the UK where he worked for many years. He did further studies at the University of Lancaster and completed a PhD at Monash University, Australia. He has had many academic roles including as an Associate Dean at Monash University, Dean of La Trobe University Business School and had visiting professorial appointments at the London School of Economics, University of Liverpool and the University of Colombo. She also has three grandchildren and two great grandchildren in Australia.
Dr Srikanthi used to recall that her father Dr G R Handy would often quote "Service is the rent we pay for the room we occupy on earth". None could contest that Dr. Srikanthi has paid her 'rent' more than fully, when she peacefully passed away in August 2023.
Sri Lanka College of Cardiology