ECTA: A new dawn for India-Australia trade relations
The India-Australia Economic Cooperation and Trade Agreement (ECTA), which could double bilateral trade to almost $50 billion in the next five years, entered into force on December 29, 2022. After years of negotiations, this trade agreement was signed this year on April 2. The negotiations for the ECTA began in 2011, were formally re-launched on September 30, 2021, and settled on a fast-track basis by the end of March 2022.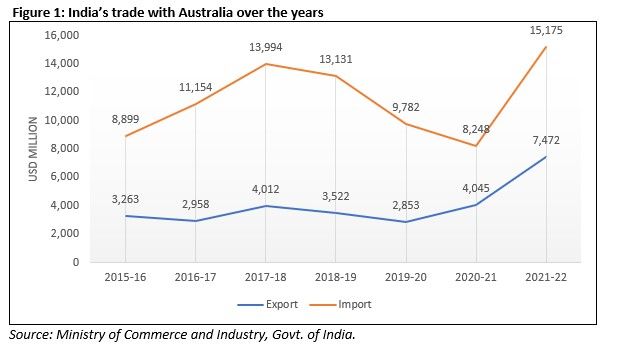 India's goods exports to Australia stood at $7.5 billion and imports from the country aggregated to $15.2 billion in 2021-22. It is expected that the ECTA will lead to $10 billion jump in India's merchandise exports by 2026-27. Besides providing cheaper raw materials to many sectors including steel and coal from Australia, the ECTA would also facilitate increased investments from Australia and will support the Indian manufacturing sector.
The ECTA is expected to benefit the Indian economy in over 6,000 sectors. Under the agreement, over 96.4 per cent of Indian goods will get zero-duty access from day one. There will be immediate zero duty on 85 per cent of Australian exports from the first day, and zero to low duty on 30 per cent tariff lines in 3-10 years. The rationalisation or elimination of tariffs will also promote investments in both countries. The agreement covers the entire range of trade and commercial relations, removing trade barriers, and opening a variety of opportunities for both goods and services. Australia trades in around 6,500 tariff lines while India has about 11,500 tariff lines.
Previously, most of the Indian exports attracted 4-5 per cent customs duty in Australia, due to which India faced a significant disadvantage compared to the countries having free trade agreements with Australia, such as China, Vietnam, and Bangladesh. The ECTA will enable Indian exports to compete with these nations in the Australian market. It is believed that the agreement will help in raising bilateral trade from $27 billion to $45-50 billion in the next five years. About 96 per cent of Australia's exports to India comprised of raw materials and intermediate products, thus the tariff concessions offered by India will allow domestic industries to get cheaper raw materials and enhance their competitiveness. It is also the first trade agreement to be signed by India which has a compulsory review mechanism i.e., it will evaluate the impact of the agreement post 15 years of implementation.
Textiles and apparel: India exported $541.88 million worth of textile and apparel products to Australia in the first ten months of 2022, up 5.93 per cent compared to $511.53 million in the same period in 2021. The export basket of India mainly consisted of home textile products and apparel products. In the home textiles segment, bed and bath linen (11.45 per cent), furnishing articles (8.67 per cent), and sacks & bags (6.01 per cent) were among the major products that were imported from India in 2022.
Curtains and drapes in home textiles is where Indian exports to Australia currently lack, though they are supplied to other countries on a massive scale. The newly enacted FTA has paved an opportunity for India to boost its curtains and drapes exports to Australia by upscaling its existing product portfolio quality. Similarly, in the apparel segment, India currently lacks in the supply of women's intimate wear to Australia due to competitive pricing offered by Sri Lanka, but there could be a potential boost in this category after the new FTA.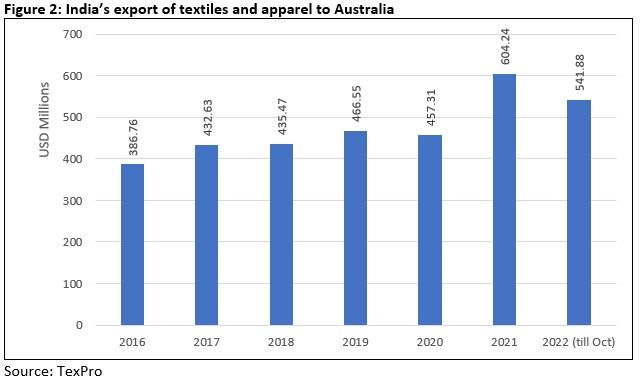 India has the potential to meet the textile and apparel demand of the Australian market in desired quantity and quality. The agreement will do away with the duty disadvantage faced by Indian textile and apparel exporters. Duty-free access to home textile and apparel products will bring Indian exports at par with their global rivals and make Indian products competitive in the international market. India's textile and apparel exports to Australia contribute 5.51 per cent of the total Australian textile and apparel imports and were valued at $604.4 million in 2021. Given the current global economic challenges and the increasing need to diversify supply chains, Indian textile and apparel manufacturers are likely to benefit from this agreement.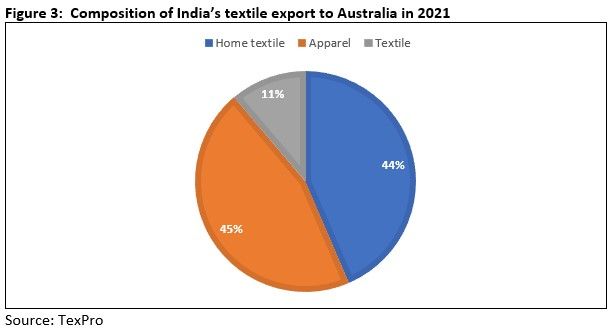 Currently, India exports a large proportion of its low-value-added commodities such as yarn and fabrics to China, Bangladesh, and Vietnam which use them to produce high-value finished goods and export it to countries such as Australia and other potential FTA partners. With the removal of these tariff barriers through this agreement, India will increase the production of value-added finished goods in the domestic market while increasing the proportion of high-value products in its overall export basket.
Leather and footwear: The ECTA will certainly boost India's footwear and leather exports. Indian products currently have 3-5 per cent market share in the about $2 billion Australian market of footwear and leather accessories, which is largely dominated by China. After duty-free exports, Indian products can compete with Chinese products, and exports are expected to go up by 25 per cent.
The agreement will allow products and services not currently exported to Australia to enter the Australian market. ECTA is a stepping-stone towards a full Australia-India Comprehensive Economic Cooperation Agreement (CECA) which will be slated upon outcomes of ECTA and will address deeper market access in new areas including digital trade, government procurement, and cooperation.
Fibre2Fashion News Desk (WE)