Ex CAA Chief alleges Trade Ministry informed SATHOSA to sell canned fish unfit for human consumption
By:
Isuru Parakrama
Colombo (LNW):
Sparks ignite raising controversy over the previous regime's administration of commodities consumed by the public, as Thushan Gunawardena, former Executive Director of the Consumer Affairs Authority (CAA) accused the government of Sri Lanka of committing 'state-sponsored murder' in a bid to inform Lanka SATHOSA to sell canned fish unfit for human consumption through its outlets two years ago.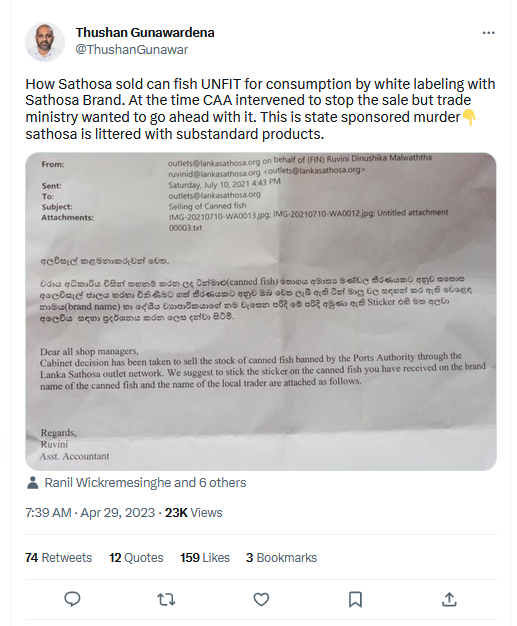 In a social media remark, the whistleblower alleged that "a Cabinet decision was taken to sell a stock of canned fish banned by the Ports Authority through Lanka SATHOSA outlets network," thereby producing evidence for what it appears to be an email allegedly sent to the state-owned commodity distributor, dated July 10, 2021.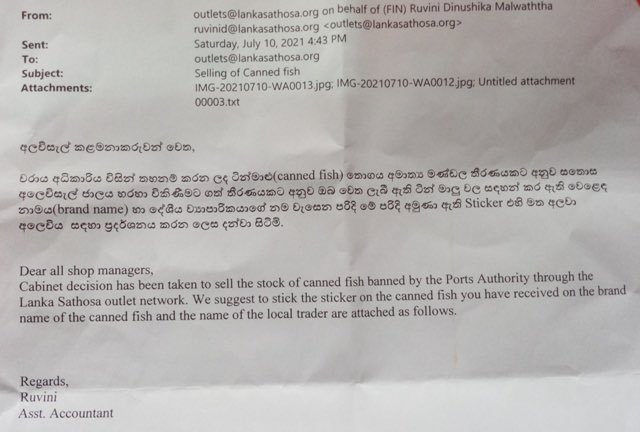 "How Sathosa sold canned fish UNFIT for consumption by white labeling with Sathosa Brand. At the time CAA intervened to stop the sale but the Trade Ministry wanted to go ahead with it. This is state sponsored murder. Sathosa is littered with substandard products,"
Gunawardena wrote on his Twitter handle.