How one family's disastrous reign dragged Sri Lanka to the brink
While much attention has been lavished on the chaos of the British government, a more serious defenestration was under way in Sri Lanka this week. The country entered a state of emergency, and its president, Gotabaya Rajapaksa, fled the country after civilians stormed his palace. The videos of people jumping into his pool and petting his pedigree dogs are astonishing.
Sri Lanka's escalating political and economic crisis has made life on the small island almost impossible. It's a country on the brink, with no clear sense of what comes next. On one hand this could lay the foundations for radical positive change; on the other it could be the start of a long, bloody conflict between the government and the people.
To get to grips with how Sri Lanka came to this point, I spoke to Hannah Ellis-Petersen, the Guardian's south Asia correspondent, who is on the ground in Colombo. First though, the headlines.
In depth: A crisis years in the making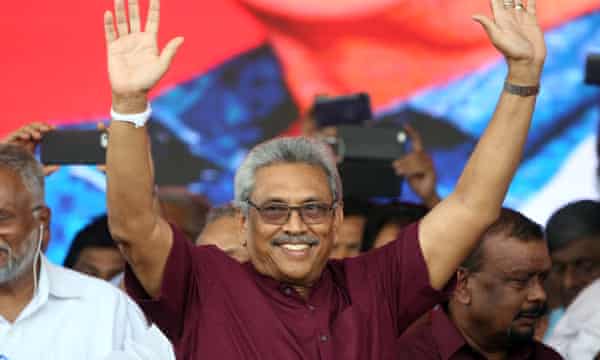 Gotabaya Rajapaksa at a presidential election rally in October 2019. Photograph: MA Pushpa Kumara/EPA
The political upheaval we are witnessing in Sri Lanka did not happen overnight. "This is a historic problem that leaders have turned a blind eye to for decades," says Hannah Ellis-Petersen.
The country was thought to be one of south Asia's great success stories: the streets are clean, the infrastructure is impressive, and healthcare and education are free. "The problem is all of this costs money," Hannah explains, and the government was relying on foreign loans to keep the country running. We are now witnessing the fallout from this, in a crisis that has been years in the making. Here's a guide to what brought Sri Lanka to this point – and where it goes from here.
***
1 An unstable government
Since achieving independence from British colonial governance in 1948, Sri Lanka's government has been structured with both a prime minister and a president. The prime minister is the head of government and the most senior member of parliament. But the real power lies with the president.
One family – the Rajapaksas – has dominated the Sri Lankan political sphere, concentrating power in the hands of a few senior officials – who all happen to be related. Unsurprisingly, this has led to problems over the past two decades, including political violence against minorities and accusations of rampant corruption.
***
2 Economic crisis
The problems in Sri Lanka are systemic, says Hannah, and longstanding. "Through a series of terrible financial decisions and mismanagement of the economy, the government has spent all of the money the Sri Lankan government had, and in particular spent all of the dollars," Hannah says. This is a problem for Sri Lanka as it relies heavily on imports. With no cash left, importing basic necessities like food, fuel and medicines has become difficult – "there are some products that have gone up five times in price", Hannah adds.
After defaulting on its foreign debt for the first time since achieving independence, the Sri Lankan government halted the sale of fuel for non-essential vehicles for two weeks. It is the first time a country has restricted fuel sales since the 1970s. Citizens have also been faced with daily power outages, schools have closed and people are forced to work from home in an attempt to conserve energy.
"It's important that we understand that it's not just Covid-19 or the war in Ukraine, or global inflation," Hannah says, explaining that while these external factors have exacerbated the problems in the country, Sri Lanka's difficulties are largely the consequence of reckless spending and endemic corruption.
***
3 A doomed dynasty
At the heart of it all is the Rajapaksa family. Gotabaya Rajapaksa, the president, was a popular figure when elected in 2019. At that stage "it was genuinely unfathomable to think that the Rajapaksas would ever fall; they seemed untouchable", says Hannah. Before a few resignations in April, Gotabaya and his brothers, Mahinda and Basil, were running the country with an iron fist. They appointed sons and other family members into government positions, and this nepotism created the perfect conditions for corruption to fester.
Basil, until recently the country's finance minister, has been accused of lining his own pockets through huge infrastructure projects which are said to be completely useless; and in 2016 Gotabaya was charged in a corruption case. (The charges were eventually dropped on the grounds of immunity after he was elected president.) In only three years, the Rajapaksas have shifted greater political power to the president, further limiting his accountability for political or economic decisions.
But these protests have created a "political awakening", Hannah says. "People don't just want Rajapaksa to go or even for his family to go – they want the whole political system to be overhauled."
***
4 What next?
The people of Sri Lanka aren't just complaining about their conditions – they have clear demands too. A resignation and a unity government that includes all political parties to help solve the economic crisis – and then eventually a general election.
The protesters will not fade away – when resignation looked unlikely, protesters set the prime minister's residence on fire. This mounting pressure and constant threat of escalation have led to Gotabaya Rajapaksa's official resignation.
This is a positive sign, however the country is not out of the woods yet. The now acting president, Ranil Wickremesinghe – also the current prime minister, who has been involved in government for more than two decades himself – has given the military free rein to "restore order and peace". Such a directive would be concerning anywhere, but under a government that already stands accused of human rights abuses and war crimes, it felt ominous.
Yet Hannah remains optimistic: "My hope is that this upheaval could really positively change the island. After the end of the civil war, there were no efforts of reconciliation, accountability or unity. And this finally, 13 years later, might be the thing that does that," she says. "But it relies on politicians being admirable and doing the right thing."