Huawei commits to digitalising Sri Lankan schools during President's visit
Colombo (LNW):
During President Ranil Wickremesinghe's visit to Huawei today, Simon Lin, the Senior Vice President of Huawei Technologies and President of Huawei Asia Pacific, expressed the company's commitment to sponsor an annual programme to cultivate software and hardware engineering talent in Sri Lanka. Lin highlighted Huawei's ongoing partnerships with multiple Sri Lankan universities, encompassing academic support and technological infrastructure provisions. As part of his four-day official visit to China, President Wickremesinghe, along with the Sri Lankan delegation, toured Huawei's R&D centre in Beijing today (17). Throughout his visit, Wickremesinghe articulated his vision for Sri Lanka's future and acknowledged the pivotal role the Chinese Government and Huawei play in bolstering Sri Lanka's digital education and green energy initiatives. To navigate future challenges, the Sri Lankan President underscored the importance of fostering a robust digital and eco-friendly economy in the island nation, mentioning that preliminary efforts in this direction are already in progress.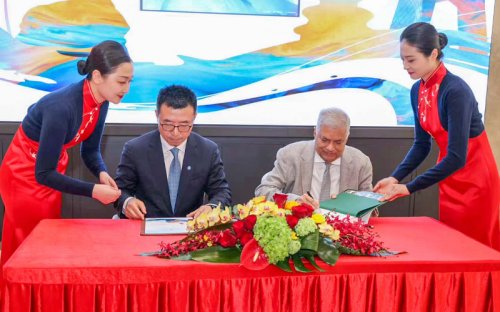 The conversations also delved into how equipping the Sri Lankan populace with digital know-how can spur national economic growth. The delegation was introduced to Huawei's global offerings and their cutting-edge tech innovations. Moreover, a pact affirming Huawei's dedication to digitalising Sri Lankan educational institutions was inked during the visit. Dignitaries such as the Foreign Affairs Minister Ali Sabry, Transport and Mass Media Minister Bandula Gunawardena, and Senior Presidential Adviser on National Security Sagala Ratnayaka were in attendance.