LKR goes from Aisa's best to worst in three weeks: Bloomberg
Bloomberg: The Sri Lankan rupee has turned into Asia's worst-performing currency from being the best in the first half of the year, and is poised to extend losses amid headwinds from interest-rate cuts and the loosening of import controls.
The currency has tumbled more than 6% this month as it fell a 14th day on Monday, on track for its longest daily losing streak in almost five years. 
That's a stark reversal from its stellar performance in the first six months of this year when the rupee was Asia's top performer with a 19% advance. 
According to Natixis SA in Hong Kong, the currency may further weaken by 8% by year-end.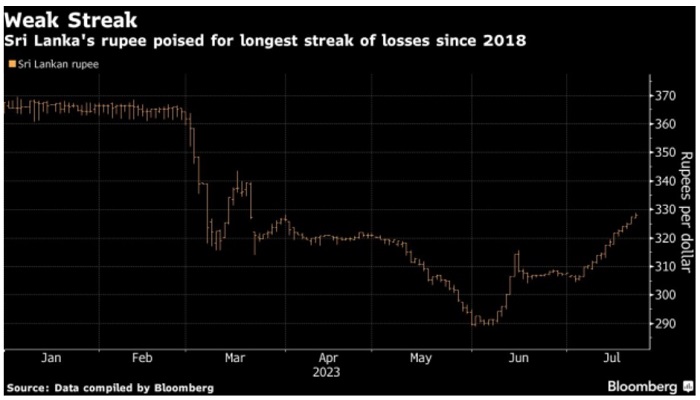 Demand for dollars is rising as the crisis-hit nation eases import controls on more goods such as tiles and medical supplies. Sri Lanka cut its benchmark rate for the second consecutive meeting early this month amid faster disinflation, a move that's also weighed on the currency.
"The trade balance will go more negative and more rate cuts may come as inflation is cooling rapidly," said Haoxin Mu, an economist at Natixis SA. Mu forecasts a further 8% depreciation in the rupee to about 355 per dollar by the end of the year.
The rupee volatility is due to banks covering positions, central bank Governor Nandalal Weerasinghe said last week. 
Businesses should use hedging instruments, avoid basing decisions on the exchange rate and instead use inflation expectations, he said.
Source: Bloomberg