NASA asked India to sell them its technology – space agency chief
A US delegation was impressed by the Chandrayaan-3 mission's payload, ISRO head claims
A visiting delegation from the US space agency NASA urged their Indian counterparts to sell them the "
beautiful and cheap
" technology used in their historic Chandrayaan-3 lunar mission, the head of India's space agency said on Sunday. S Somanath, the chairman of the Indian Space Research Organisation (ISRO), told an event in Tamil Nadu state that experts from the US' National Aeronautics and Space Administration were at the ISRO's headquarters in Bengaluru in the lead-up to the Chandrayaan-3 mission launch in July. "
About five or six people from NASA's Jet Propulsion Laboratory came and we explained to them about the Chandrayaan-3 technology
," Somanath told his audience of students,
according
to the Times of India. He recalled that the American delegation was impressed by the mission's payload. "
They just said, 'We have no comments. Everything is going to be good. They also said, 'Look at the scientific instruments, they are so beautiful and very cheap. Very easy to build and they are high-technology. How did you build it? Why don't you sell this to America?"
Somanath explained that "times have changed" and India is now capable of "building the best of equipment, best of devices and best of rockets."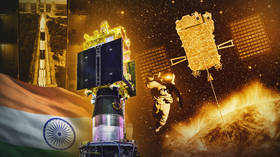 The Chandrayaan-3 mission, built and launched at a budget of around $74 million, is ostensibly cheaper than similar missions launched by other countries. NASA is on track to spend roughly $93 billion on its Artemis moon programme through 2025, while China, which made its soft landing on the far side of the moon in 2019 and has more missions planned, reportedly spent around $12 billion on its space programme in 2022, according to research firm Euroconsult. The cost of Russia's Luna-25 mission, which crashed on the Moon days before the Chandrayaan-3 successful landing, was estimated at around $200 million. India's third lunar mission, which landed on the Moon's southern polar region on August 23, had done "
very well
," said Somanath. Notably, India became only the fourth country, after the Soviet Union, the United States, and China, to successfully land a spacecraft on the Moon. The Chandrayaan-3's Vikram lander and its rover Pragyan were put into "sleep mode" on September 2 in order to hibernate and protect the electrical components during the brutal conditions of a lunar night, which lasts for two weeks. Later efforts to revive the devices proved to be unsuccessful. Ten days after Chandrayaan-3's successful voyage to the Moon, India launched the country's first mission dedicated to observing the Sun, Aditya-L1.
go to Mars, Venus, and again to the Moon.
" Apart from missions to study issues related to climate and weather of Earth, the Indian space agency is also conducting regular missions "
for communication and remote sensing activities
," Somanath said. The ISRO also has scientific missions in the pipeline to look at issues like aeronomy, thermal imaging, and climate-change impact assessment, he added. India's next big mission to space is the Gaganyaan human spaceflight project, which is expected to take the country's astronauts to space late next year. The ISRO is gearing up to carry out the first of several test flights on October 21.