"Singapore and Sri Lanka at 50: Perspectives from Sri Lanka" joint research publication launched at NUS
The soft launch of "Singapore and Sri Lanka at 50: Perspectives from Sri Lanka" a joint research publication by the Institute of South Asian Studies (ISAS) of the National University of Singapore (NUS) and the Sri Lanka High Commission, Singapore took place on 29 August 2023 at NUSS Guild House, National University of Singapore. The project was initiated to commemorate the 50th anniversary of Diplomatic Relations between Sri Lanka and Singapore.
The edited volume represents a culmination of years of dedicated research, collaboration, and scholarly endeavour. It is a comprehensive exploration of the diplomatic relations between the two nations and delves into a multitude of dimensions including historical, social, economic, security, diplomatic, and environmental aspects and the potential that lies ahead for this important relationship. The chapters in the book, predominantly offering a Sri Lankan perspective, shed light on diverse aspects of the bilateral relationship with a rich tapestry of analysis, presenting both successes and challenges encountered along the way.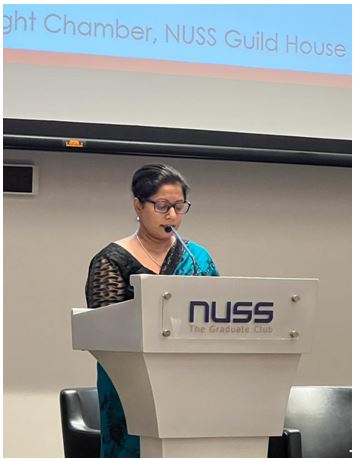 Welcoming those present at the book launch, Director of ISAS Associate Professor Iqbal Singh Sevea highlighted that Sri Lanka was considered an inspiration for Singapore's founding father late Mr. Lee Kuan Yew. He added that Singapore and Sri Lanka have negotiated challenges, explored opportunities in their own unique ways, and enjoyed strong bilateral relations underpinned by economic and people-to-people ties.
Addressing the gathering High Commissioner Sashikala Premawardhane spoke of the strong cultural and historical foundation that nurtured the bilateral relationship dating back to a time when both countries were pivotal points along the ancient maritime trade routes. She added that frequent high-level political interactions that have taken place over the years including the recently concluded successful working visit of HE Ranil Wickremesinghe, President of Sri Lanka to Singapore strengthened cooperation and collaboration between the two countries. She added that Sri Lanka looks towards deepening cooperation with Singapore in the future.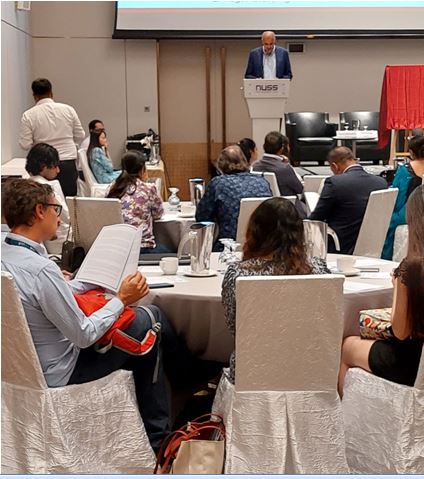 Speaking about the edited volume High Commissioner Premawardhane said that the research volume is more than a mere collection of academic essays; and stands as a testament to the depth and complexity of the bilateral relations. She expressed her appreciation to the editors, Dr. Chulanee Attanayake, Dr. George Cooke, and Ms. Ramitha Iyer for curating the insightful collection of chapters and thanked the contributors whose collective expertise and dedication have resulted in a comprehensive and enlightening exploration of this significant diplomatic relationship. She added that the scholarly contributions contained in the volume offer a wealth of knowledge and understanding that will undoubtedly enrich the discourse surrounding international diplomacy.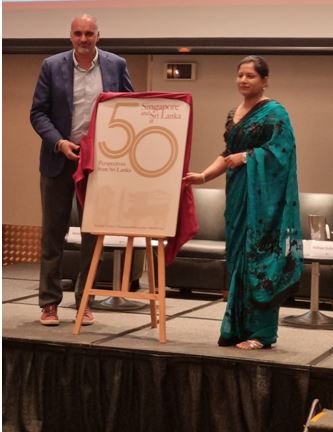 The book launch was followed by a panel discussion featuring Postdoctoral Fellow, National University of Singapore Dr. Rajini Gamage, journalist Nithya Subramanian, Head of Public Policy at Meta Senura Abeywardena and was moderated by Dr. Udan Fernando, Consultant, Association for Asian Civil Studies (AAS), USA & Head, Colombo Charter, Asian Civil Society Research Network, University of Melbourne.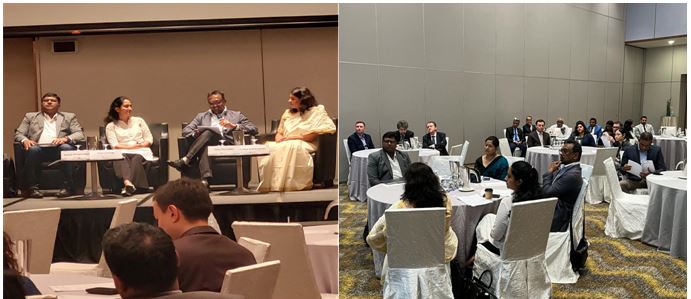 Representatives of the diplomatic corps in Singapore, academics and researchers, and the Sri Lankan expatriate community members attended the event.