Under the aegis of the Embassy of Sri Lanka in Jordan, an MoU between SLASSCOM and [email protected] was signed on 27 October, 2022. The MoU signing took place virtually between Chairman Ashique M. Ali on behalf of the Sri Lanka Association for Software and Services Company (SLASSCOM) and Chairman Amjad Swais for [email protected] in the presence of Sri Lanka's Ambassador to Jordan Shanika Dissanayake, CEO of [email protected] Nidal Bitar and the membership of both Associations.
Under the terms of the MoU both parties will mutually collaborate to explore opportunities and investments and to maximize the outreach for networking for the ICT/BPM companies in their respective Associations. SLASSCOM under the guidance of its Chairman Ashique Ali will be hosting the B to B sessions shortly in order to maximize on potential areas for collaboration that are expected to open up for Sri Lankan software companies through this MoU.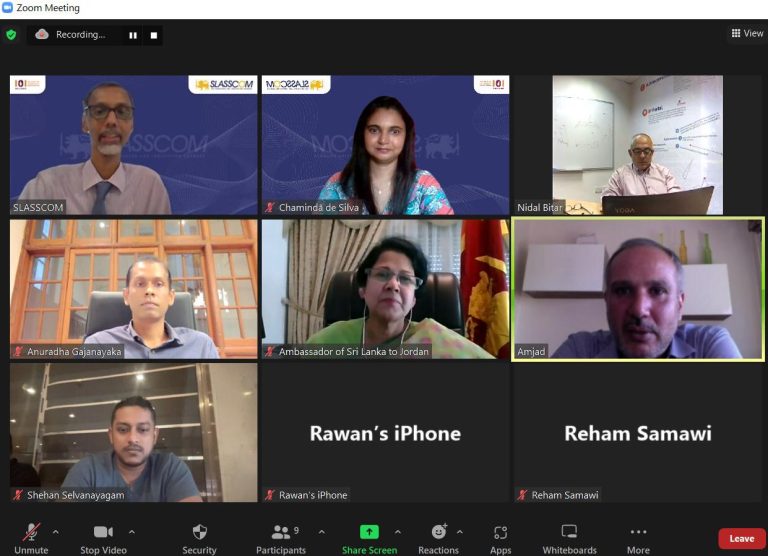 Ambassador of Sri Lanka to Jordan Shanika Dissanayake stated that the signing of the MoU will open up avenues for the members in both SLASSCOM and [email protected] to enter the entrepreneurial eco systems in Sri Lanka and Jordan. As digital transformation is a key pillar towards improving a business environment and attracting foreign investment, the MoU is expected to stimulate creativity in the different verticals of the software industry, particularly for Sri Lanka.
Embassy of Sri Lanka
Amman
31 October, 2022