Sri Lanka presents Credentials to the African Union
The Permanent Representative of Sri Lanka to the African Union (AU), K.K. Theshantha Kumarasiri presented credentials to Chairperson of the Commission of the African Union Moussa Faki Mahamat on 26 May 2023 at Headquarters of the African Union in Addis Ababa, Ethiopia. During the discussion, followed by the presentation of credentials, the new Permanent Representative conveyed the Chairperson of the Commission of the African Union the warm felicitations of President Ranil Wickremesinghe, the government and people of Sri Lanka on the celebrations of the 60
th
 Anniversary of the Organization of African Unity (OAU) which was later named as the African Union (AU), established on 25 May 1963 in Addis Ababa, Ethiopia. The Representative highlighted the tremendous progress and achievements that have been made by the African Union for the last six decades under many challenging circumstances while ensuring continuous development of the continent and partnerships with the rest of the world.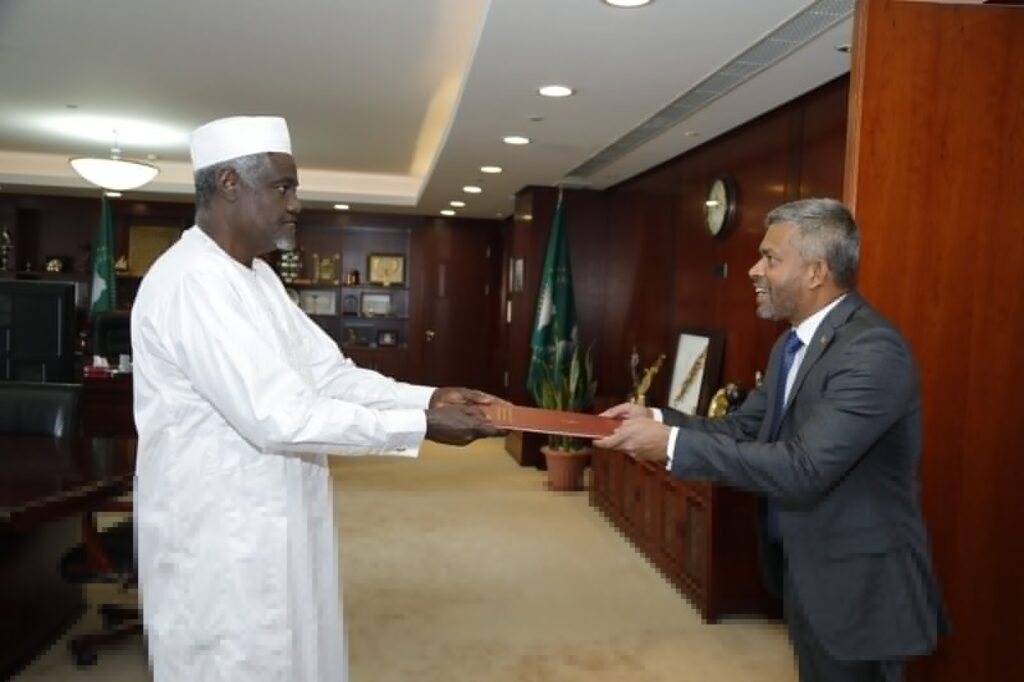 The Representative also briefed Chairperson Mahamat about the new foreign policy initiative of "Look Africa" introduced by President Wickremesinghe in order to enhance Sri Lanka's bilateral relations with the countries in Africa, and also the African Union in particular on matters of regional and multilateral nature, including Sri Lanka's interest in blue economic initiatives with partner countries and regional  & multilateral organizations in order to develop partnerships for better management of challenges of economic & social development, mitigating of climate change issues, supporting for inclusive economic growth and mobilization of sustainable financing instruments to address common issues of complex nature in the spirit of solidarity of South – South Cooperation. Chairperson Mahamat conveyed his warm greetings to the President of Sri Lanka for his commitment in promoting blue economic agenda and making significant initiatives to engage with the member States of the African Union in view of addressing matters of common interests. Further, Chairperson of the African Union Commission assured that the African Union Commission and its Commissioners will provide adequate institutional assistance and necessary cooperation to the Permanent Observers to the African Union (including Sri Lanka) in order to build partnerships with the view to achieving common objectives pertaining to specific areas of cooperation such as agriculture, food security & poverty alleviation, renewable energy, education, knowledge creation & innovation and tourism & hospitality in particular.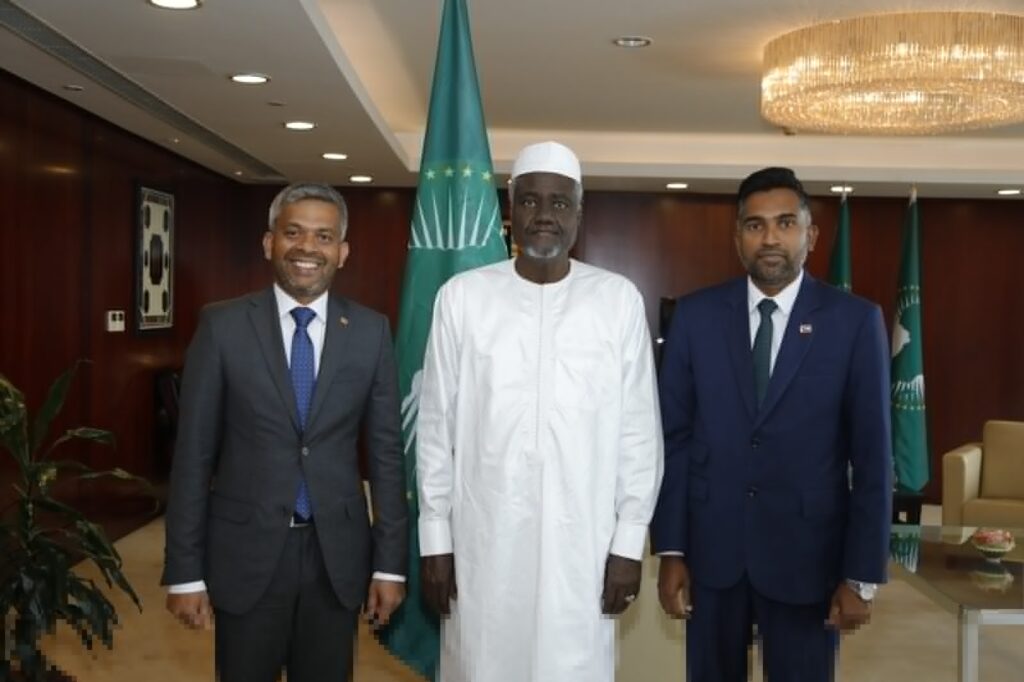 Further, the Permanent Representative expressed Sri Lanka's desire for the full implementation of the African Continental Free Trade Area (AfCFTA), which will pave the way for eliminating barriers to trade in Africa and boosting intra-Africa trade as well as expansion of trade and investment with potential partner countries in the rest of the world including Sri Lanka while deepening country's linkages with the African content. During the discussion the both parties expressed the hope that Africa's prolonged struggle of searching for permanent seats on the United Nations Security Council will be achievable in coming years with a wider endorsement of policy level. The discussion also focused on the speedy progress that has been made by the African Union in the recent past with respect to Africa's accession to the G20 Group of large economies by becoming a permanent member of the Group. Further, Chairperson Maamat assured the commitment of African Union to collaborate with Sri Lanka as a Permanent Observer to the African Union for the realization of aspirations and goals of the African Union under its ambitious master plan of "Agenda 2063" in view of inclusive and sustainable social and economic development while transforming Africa into the global powerhouse of the future.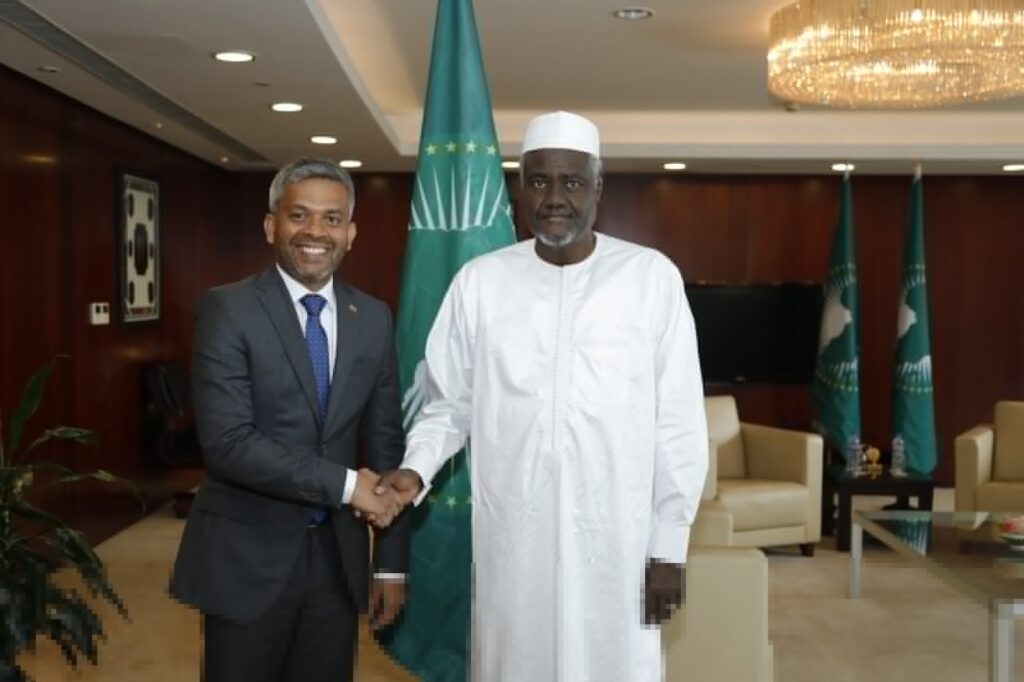 Theshantha Kumarasiri who is currently performing as the Ambassador of Sri Lanka to Ethiopia is a member of the Sri Lanka Foreign Service with over 20 years of career experience while serving previously in France, South Korea and Brazil. He is a graduate of the University of Kelaniya, and has a Master's Degree in Human Rights and Democratization from the University of Colombo, Sri Lanka. Embassy of Sri Lanka Addis Ababa 29 May 2023