Sri Lanka's anti-government protests have gone silent – for now
Long gone are the throngs of protesters who occupied an area around the president's office for months during Sri Lanka's worst economic crisis since independence.
By Sam Cabral
Instead a slew of carollers sang to the public from across the heavily-guarded fences of the Presidential Secretariat. Next to the building rose an 80 ft (24m) Christmas tree, the signature piece in a landscape dotted with décor, food stalls and musical shows. And as fireworks ushered in the new year, a massive crowd flocked to the oceanfront promenade known as Galle Face Green.
It was all part of a festive zone planned by the government as a year-end tourist attraction in the central business district of Colombo, Sri Lanka's capital.
But for many locals, who used the site as their "ground zero" for Occupy-style protests from April to August and demanded their leaders resign, there is little to celebrate.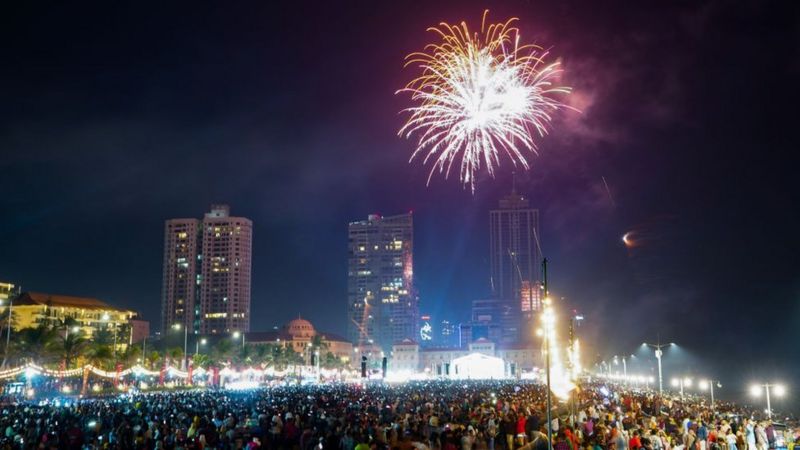 Thousands gathered at the former protest site to ring in the New Year
"It's disgusting," says Swasthika Arulingam. "It's an indecent display of wealth that this country does not have, and of resources this country is denying to the weakest sectors of our population."
The carnival lighting is particularly galling, she adds, given that the state-run electricity board has incurred a loss of 150bn Sri Lankan rupees (£344m) this year.
The prospect of extended daily blackouts looms again. Food staples, transport fees and children's school supplies are increasingly unaffordable. And the new year brings with it steep tax hikes that will only compound the misery.
There is "a kind of pseudo-stability" right now, Ms Arulingam says, but residents are under tremendous stress as it grows harder to make a living.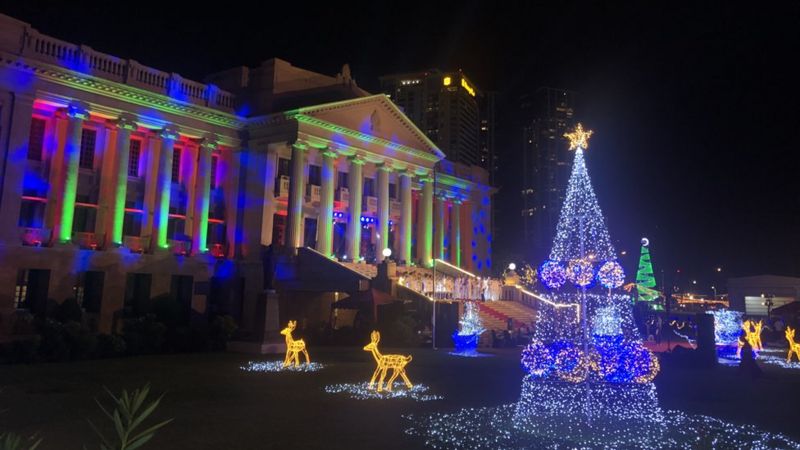 Christmas carollers sing on the steps of the president's office, which was occupied by protesters in July
Through much of last year, Sri Lankans faced acute shortages of food, fuel and other basic supplies after a slew of government policies followed by the pandemic had depleted foreign reserves and left the country teetering on the edge of bankruptcy. Lengthy fuel queues and power outages sparked months of mass unrest, culminating in the storming and occupation of then-President Gotabaya Rajapaksa's official workplace and residence in July, forcing him to flee the country.
Six months on, with more pain on the horizon, there have been calls for early elections. Mr Rajapaksa's parliament-appointed replacement, Ranil Wickremesinghe, has largely demurred, but local government elections are expected to take place next month after a one-year delay.
Mr Wickremesinghe has also cracked down on the anti-government protest movement and its leaders, after vowing that he will not allow "fascists" to "tear up our constitution".
"Any form of protest is controlled in Sri Lanka right now," says Shreen Saroor, a local human rights campaigner. "He has kept his powers well intact to do what he needs to do and in case he needs to call on the military to control the country."
Ms Saroor points to how Mr Wickremesing has retained the powers of executive presidency – he can deploy security forces, and issue detention orders under what is known as the Prevention of Terrorism Act (PTA).
Critics say the system, which heavily centralises power in the hands of the president, was bolstered by the Rajapaksas during their two decades in power, and lacks the appropriate checks and balances. Calls for abolishing it and reforming the constitution were a key demand in last year's protests.
Father Jeewantha Peiris, a Catholic clergyman, is among the protest leaders who have been charged with various criminal offences, including assault and unlawful assembly, under PTA. He is fighting back in court against what he calls "baseless accusations".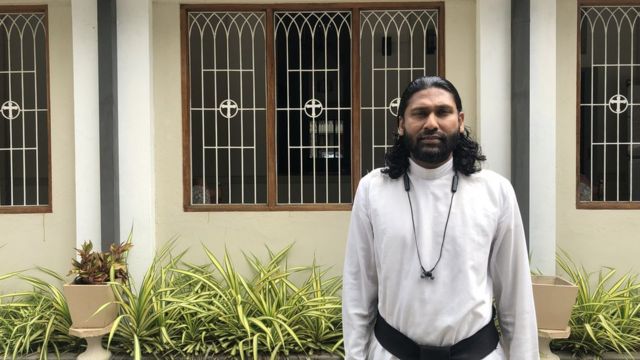 Image caption, The 2022 protests were a freedom struggle that united all Sri Lankans, says Father Jeewantha Peiris
Parliament "totally betrayed" the people when they voted in Mr Wickremesinghe as president, he says, referring to the former six-time prime minister as "another culprit who had been engaged with the corrupt system".
"Apparently the crisis is now solved but, underneath, its real causes have not been treated," he says. "Corruption is still taking place. Real issues like malnutrition and medicine shortages exist. Downtrodden people cannot face this inflation."
The state is intimidating citizens like him, he alleged, but "unless they bring to account those who have committed economic injustices and violated human rights, this crisis will not be solved".
Father Peiris is the parish priest to mostly Tamil-minority rubber estate workers in the village of Doloswala in the south-central Ratnapura district. He says successive governments have neglected Sri Lanka's poorest and most vulnerable.
When the pandemic arrived, he claims, villagers fell ill in droves with no ability to socially distance inside their homes and no access to vaccines – and with schools shut, their children suffered with no prospect of remote learning.
"Mothers would come to my cottage and cry for their starving children," he says. "As a priest working among them, I could not wait around and watch them in their daily misery."
With his black locks and pristine white cassock, the parishioner was at the Galle Face Green protests every day. His message: the country needs a national movement for structural change.
He describes it as the first time Sri Lankans united, in a struggle for the greater good, irrespective of race, religion or ideology: "We had no divisions among us and we all felt we were victims."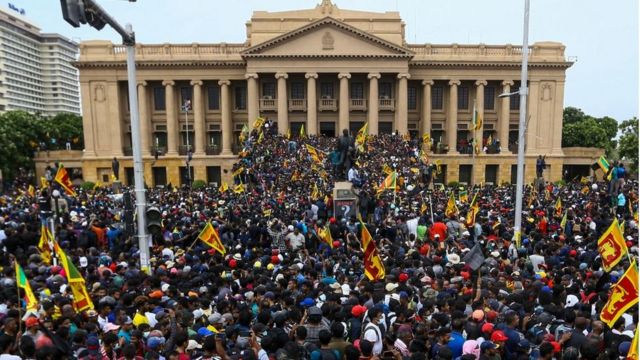 Image caption, Protesters broke into the president's office on 9 July
Beginning on 9 April, daily demonstrations quickly grew into "GotaGoGama" – a word that combines the Sinhalese word for "village" with protesters' demand for Mr Rajapaksa to step down as president.
Camped opposite the Presidential Secretariat, the little community spawned rallies, candlelight vigils, stage dramas and a huge library of donated books, all focused on broadening political literacy.
It commemorated atrocities from Sri Lanka's past, held open forums about minority divisions and, when government-aligned thugs brutally laid siege to the site, grew even stronger.
But by July, as protesters grew increasingly restive over Mr Rajapaksa's refusal to leave office, the crowds had grown larger and more uncontrollable.
In the days after the president's home and office were stormed, as Mr Rajapaksa fled to the Maldives and finally resigned, security forces under the orders of his successor reclaimed the two buildings and raided the GotaGoGama protest camp, arresting demonstrators and dismantling their tents.
With many of its key figures now behind bars, facing legal action or under regular surveillance, the so-called "aragalaya" – or people's struggle in Sinhala – has largely gone silent.
"It was a national movement, a vision of what Sri Lanka could be," says Dr Paikiasothy Saravanamuttu, founder of the Centre for Policy Alternatives, but "the middle class has deserted it, the ordinary community groups have all deserted it".
"[Mr Wickremesinghe] successfully changed the narrative to show there's a good aragalaya and a bad aragalaya, and what we're now lumped with is the bad aragalaya," he says.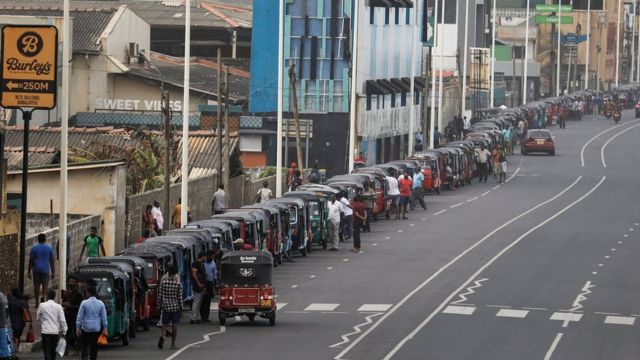 Image caption, Queues for fuel snaked along Colombo's streets at the peak of the shortage in July
Dr Saravanamuttu argues that sections of the population, particularly older Sri Lankans, view Mr Wickremesinghe as the best possible option to salvage the cash-strapped economy, but he must adhere to a reasonable timetable for elections at the local and presidential level.
"The sooner we have some legitimacy, the better," he adds. "But from Ranil's point of view, he wants to be elected president of this country, so he's not going to do anything that will register a huge rebuke against any government that he is heading."
As Sri Lanka waits on a US$2.9bn (£2.4bn) IMF bailout and financing assurances from China and other bilateral creditors, its people will struggle for a while longer. Dr Saravanamuttu warns a fresh outbreak of mass protests is on the cards in the near future, particularly in areas outside of Colombo where people are poorer and will be hit harder by rising food costs and fuel shortages.
"People will come out, not because they want constitutional reform or they want impunity checked, but because they can't survive," he says. "And that might be more dangerous, because it will be spontaneous and it will have a them-versus-us dimension."
For Buwanaka Perera, a 27-year old social media activist who helped organise the GotaGoGama protests, whatever comes next, the protest movement of 2022 has left a permanent mark.
"People stood up against monsters and gave them the finger," he says.
"We managed to send Gotabaya home. If people could send him fleeing, and hiding in [army] camps and on islands, there's no stepping back from that."
BBC