Sri Lanka's tea farmers struggling to survive
Leaves from the lush green tea estates covering the hills of central Sri Lanka end up in cups across the world.
Tea is the island's biggest export, normally bringing in more than $1bn a year, but the industry is being hard hit by the unprecedented economic crisis.
Most of Sri Lanka's tea is grown by smaller farmers, like Rohan Tilak Gurusinghe, who owns two acres of land close to the village of Kadugunnawa.
But he's still reeling from the impact of a sudden, poorly thought-out government decision to ban chemical fertiliser last year.
"I'm losing money," he tells the BBC despondently. "Without fertiliser or fuel, I can't even think about the future of my business."
The ban, ordered to try to protect the country's dwindling foreign reserves, was one of a number of disastrous policy decisions implemented by the now-ousted President Gotabaya Rajapaksa, with agricultural output falling significantly.
It was later reversed, but fertiliser has shot up in price and is still difficult to source, while the government is now unable to afford to import adequate supplies of petrol and diesel.
For farmers like Mr Gurusinghe, reliant on trucks transporting tea leaves from his fields to factories for processing, it means delays which can lead to the leaves drying out and reducing in quality.
"Our leaders are not bothered about providing us with the basic necessities," he tells the BBC.
"They're the ones who have put us in debt: by stealing dollars and spending them however they want. Right now, Sri Lanka is like a ship stranded at sea."
The huge queues of vehicles waiting in line for fuel aren't just in Sri Lanka's capital, Colombo, but across the island.
Public anger at the crisis, which is also rooted in the impact of the Covid-19 pandemic on the island's tourist industry, has led to the resignation of President Rajapaksa.
Protesters have also indicated they won't accept Ranil Wickremesinghe, the politician looking most likely to be nominated by parliament as Mr Rajapaksa's successor.
Mr Wickremesinghe is seen by critics as too close to the Rajapaksa dynasty. As a former six-time prime minister, he doesn't represent the change demonstrators have called for.
Further political instability, however, will make resolving the economic crisis even more challenging.
Among tea factory owners, there is deep frustration. Tea exports are a valuable source of dollars and the industry employs some two million people, but production levels have dropped.
Meezan Mohideen heads a large estate and factory in Ancoombra. "Without the fuel, we are finding it very, very difficult. If this goes on, we might have to shut down all factories," he told the BBC.
"Normally, about 20 lorries are running for us. Now we are running eight lorries. And with the power cuts, there are factories which have closed down – working three, four days a week."
Mr Mohideen's factory had drastically cut down the number of days it was operating until, because of its size, it managed to source fuel through a private importer.
Other, smaller factories are struggling even more. But it's the poorest who are suffering the most in this crisis.
Tea pluckers, working in the fields, picking out the tender tea leaves and placing them in large sacks tied around their waists, are generally paid little more than the minimum wage.
But food prices in Sri Lanka have been soaring. Inflation in June, compared with the same period last year, was more than 50%.
While carrying the sacks of leaves to be weighed, close to the colonial era "line houses" where they live, tea pluckers from Mr Mohideen's estate complained of how much more difficult everyday life had become.
"In the past, we could get by, but now prices have more than doubled," says Nageshwri. "Whatever we earn in a day, we're spending to eat."
"We don't eat lunch any more," adds Panchawarni, "we eat once around 10:00, and then again in the evening."
The Sri Lankan government is in the process of sourcing more fuel and is also in talks with the International Monetary Fund, but for now, whoever takes charge of the country, the hardship looks set to continue.
BBC News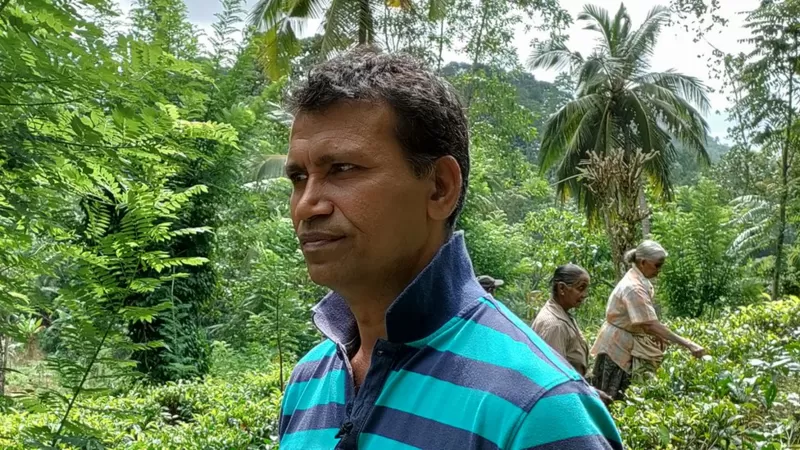 Rohan Tilak Gurusinghe says the high price of fertiliser is killing his business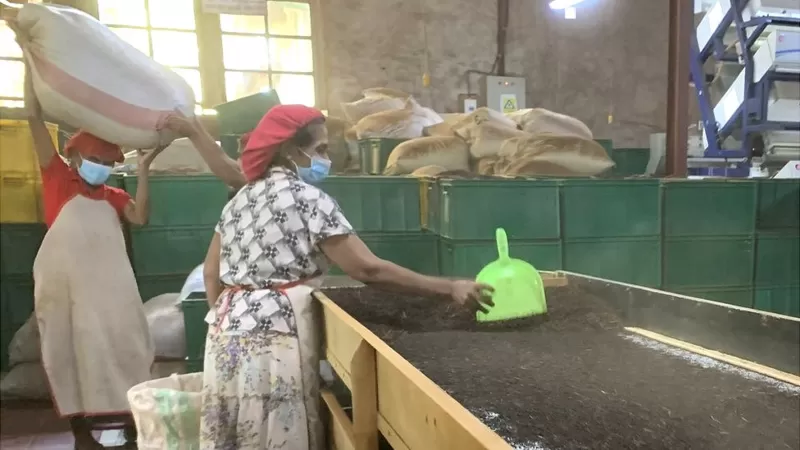 Meezan Mohideen's tea factory has seen production levels fall