Ambassador Asirwatham meets Vice President of EU Parliamentary Delegation to SL
Ambassador of Sri Lanka to Belgium and Head of Mission to the European Union Grace Asirwatham met with Heidi Hautala, Vice President of the European Parliament, and Member of the European Parliament (MEP) from Finland representing the Greens/EFA Group at the European Parliament on 25 October 2023. This meeting took place ahead of the inter-parliamentary meeting scheduled for 31 October 2023, in Sri Lanka.
The discussion between Ambassador Asirwatham and MEP Hautala covered a wide range of topics, including the present economic situation in Sri Lanka, the status of bilateral relations between Sri Lanka and the European Union, compliance with the GSP Plus program, with a particular focus on human rights, and collaborative multilateral efforts. Progress on post-conflict issues and other mutual interests of the European Union and Sri Lanka were also central to the conversation.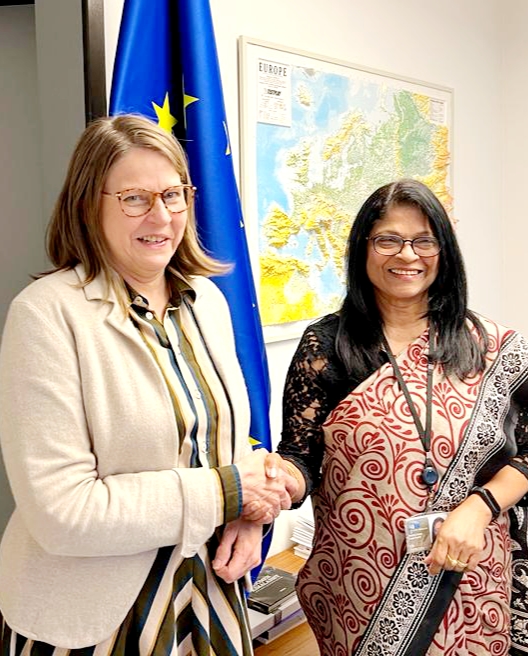 Since MEP Hautala is also the rapporteur appointed by the Parliamentary Committee on International Trade (INTA) on the new GSP Regulation, which is being negotiated among the EU Commission, Council, and Parliament, the Ambassador and the MEP discussed the extension of the current GSP Regulation until December 2027 and the new Regulation under negotiation. Ambassador Asirwatham emphasized the significance of maintaining the EU GSP Plus benefits for Sri Lanka, especially in the current economic landscape. The Ambassador stressed that the GSP Plus trade privilege has played a crucial role in boosting exports to the European Union, contributing to economic development, and providing enhanced employment opportunities, especially for women in Sri Lanka.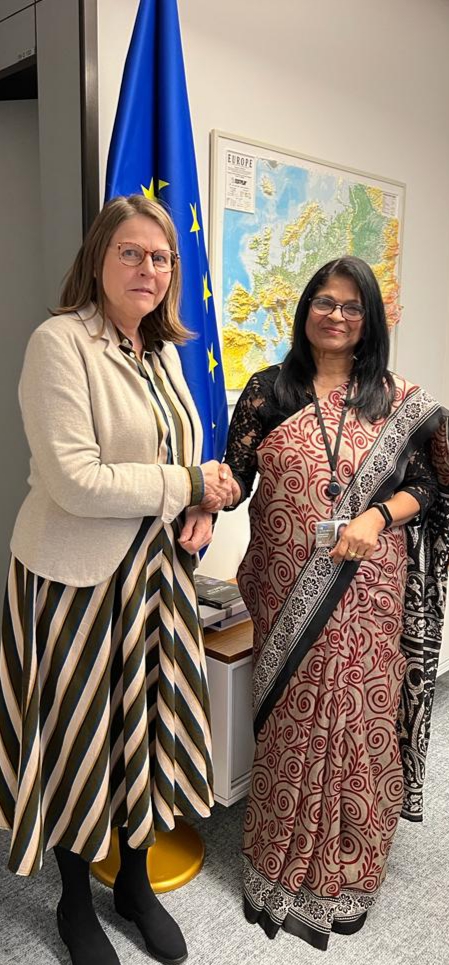 The Delegation for Relations with the Countries of South Asia (DSAS) in the European Parliament and the Sri Lanka Parliament conduct annual inter-parliamentary meetings between the two Parliaments to promote bilateral relations. The last such meeting was held online on 17 November 2022.
Over the past several years, Sri Lanka and the European Union have nurtured close and constructive relations, marked by a series of high-level meetings and engagements.
The Embassy of Sri Lanka
Brussels
30 October 2023