Apple eyes India as alternative iPhone production hub
Foxconn's new Bengaluru plant aims to manufacture 20 million devices a year from April 2024
By Joydeep Sen Gupta, Asia Editor
Foxconn, the Taiwanese multinational company and Apple's biggest supplier, will start manufacturing iPhones in the southern Indian state of Karnataka by April next year, according to the state government. The project, which the Karnataka government estimated will cost $1.59 billion, is likely to create 50,000 new jobs in line with Indian Prime Minister Narendra Modi's ambitious 'Make in India' program. The firm has been making older versions of Apple phones, including the iPhone X, at a facility in Sriperumbudur near Chennai in the neighboring state of Tamil Nadu since 2017. Apple phones such as the iPhone 6S and SE models are made by another Taiwanese manufacturer, Wistron, in Bengaluru in Karnataka. Last month, Foxconn announced that it had purchased 1.2 million sq m of land near Bengaluru to expand its manufacturing operations, amid plans to invest $700 million on a new factory in Karnataka.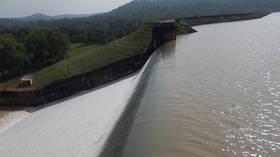 The Karnataka government has promised to give the company the land, which is located in Devanahalli near Kempegowda International Airport, for the new factory by July 1. Foxconn plans to complete the construction of its new plant in three phases and manufacture 20 million iPhones per year. The California-headquartered Apple is pivoting away from its large-scale operations in China following massive supply chain disruptions due to Covid-19 restrictions. The world's largest technology company by revenue and market capitalization, Apple is also eyeing newer facilities in India to manufacture its flagship models owing to geopolitical reasons. The company has diversified supply chains away from China in recent years as trade tensions between Washington and Beijing have escalated. Apple still manufactures 95% of its iPhones in China, while India accounts for the other 5%. Cheaper South Korean and Chinese smartphones dominate the Indian market, and prohibitive costs mean that iPhones are only popular in bigger cities such as Delhi, Bengaluru and Mumbai. Apple CEO Tim Cook visited India in April – coinciding with the 25th anniversary of the firm's presence in the country – and launched the nation's first two company stores in Mumbai and Delhi. India's federal minister for electronics and information technology, Ashwini Vaishnaw, recently said that the country was on course to becoming a global leader in the mobile devices segment, noting that exports of smartphones had doubled to over $11 billion. Mobile phone exports from India reached around $11.12 billion, of which Apple accounted for an estimated half of the total.
"With the doubling of exports of smartphones to more than $11 billion, India is well on its way to becoming a leader in the mobile device market of the world and playing a major role in India's electronic exports. This is a major win for PM Modi's 'Make in India' program,"
the minister was quoted as saying by the Indian news agency PTI.
You can share this story on social media: