Govt to recognise protection for LGBTIQ persons via Police circular previously exclusive for trans identities
By: Editor (LGBTIQ)
Colombo (LNW): The circular released by the Sri Lanka Police on December 27, 2022, outlining protocols for interacting with individuals of transgender identities within the nation and offering recommendations for addressing their concerns, is currently under review with the aim of extending protection to encompass the entire spectrum of diverse sexual orientations, gender identities, and gender expressions (SOGIE), reports said.
The circular, originally titled "Matters that should be taken into consideration when dealing with transgender persons and persons who underwent gender transition", is reportedly being reconsidered for the inclusion of lesbian, gay, bisexual, transgender, intersex and questioning (LGBTIQ) people in the terminology, following the successful reopening of an Appeal Court case filed by leading human rights activists in Sri Lanka.
Accordingly, the government of Sri Lanka on November 02, 2023 has released a communique promising the issuance of a revised circular, incorporating this terminology, on behalf of the Inspector General of Police (IGP) within a week.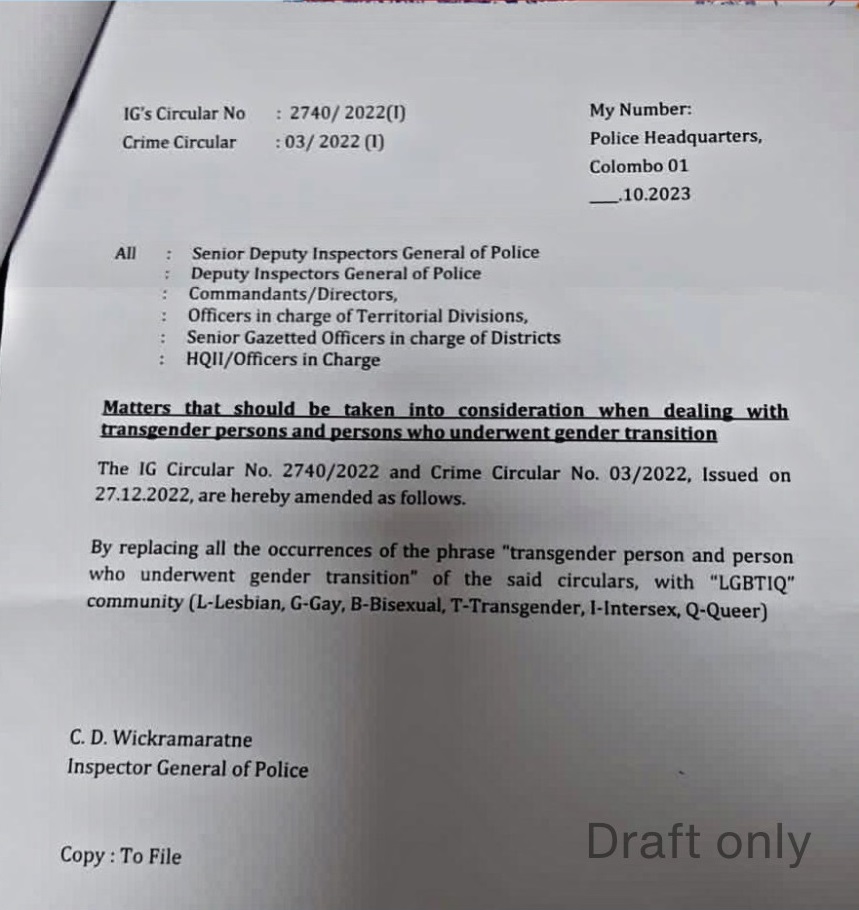 According to the December 2022 circular, complaints made to the Police by transgender persons should be investigated by the unit for the 'Prevention of Abuse against Children and Women' and the Inspector in charge should seek instructions from the Deputy Inspector General of Police (DIG), or Director of the said unit with the final investigation report being forwarded to Director of the Legal Division upon completion of the investigation. The circular adds that transgender persons who have undergone gender-affirming care shall be searched as appropriate, and if detained, would be under the custody of a female warden or female officer as deemed appropriate.
On March 15, 2023, the Human Rights Commission of Sri Lanka (HRCSL) launched a tri-lingual set of guidelines for the Sri Lanka Police to protect Transgender Persons, and these guidelines were released with the objective of ensuring that the police uphold the human rights of people of diverse SOGIE identities upon interaction. The set of 12 guidelines appear to be based on the Yogyakarta Principles (2007), which are a set of principles that apply international human rights law to sexual orientation and gender identity.
It should be further noted that the directives outlined in the original circular are subject to the prevailing criminal laws in Sri Lanka, which consider consensual same-sex sexual activity among adults as a legal offence.
Related article: