IMF programme's transparency falls to lowest point in September: Verité Research
The latest update from 'IMF Tracker' of Verité Research, an online platform which tracks the 100 identified commitments in Sri Lanka's 17
th
programme with the International Monetary Fund (IMF), shows that Sri Lanka verifiably met only 40 of the 71 trackable commitments that were due for completion by end-September 2023. It also shows that Sri Lanka had, at the same time, reached its lowest point in terms of both performance and transparency since the programme commenced in March. This is because the status of about 30% of the commitments due to be completed by end of September were unknown, and three of the four commitments due which specifically require the government to enhance transparency were not met. This unveils a "twin deficit in transparency": (a) a growing lack of transparency in the progress of the programme, and (b) a growing failure to meet IMF commitments that call for increased governmental transparency.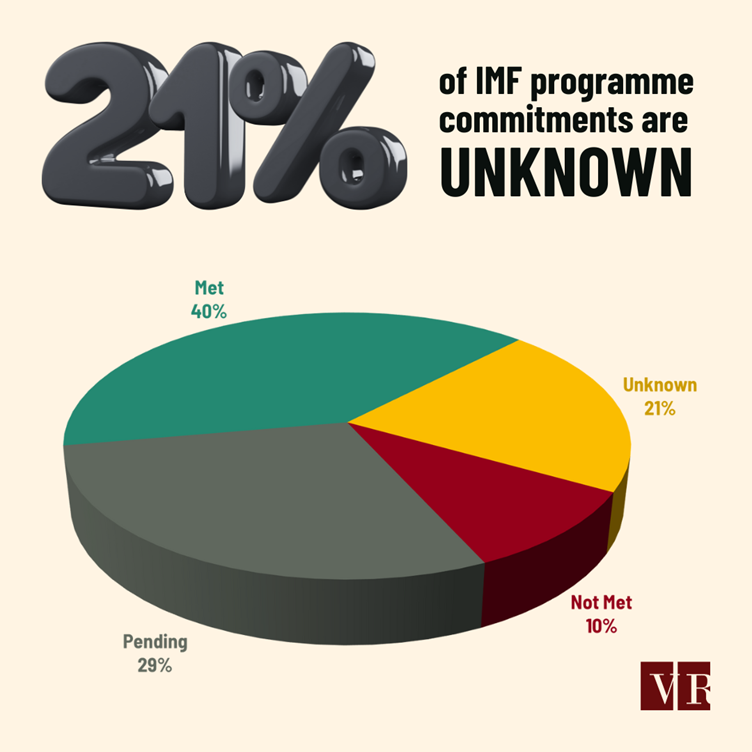 Growing lack of transparency in the progress of the IMF programme
The number of commitments with unknown statuses has surged to an all-time high about 30%, up from around 20% in August. This growing lack of transparency risks eroding public and institutional confidence, both in Sri Lanka's economic progress and in the effectiveness of the IMF programme itself.
Growing failure to meet IMF commitments that call for increased transparency of government
In the seven months following board-level agreement, most requirements mandating transparency have been unfulfilled. A current example is the commitment to "Report monthly cash flows from revenues, expenditures, and financing, by the third business day of the subsequent month, by the Department of State Accounts,". Another example is the creation of an online fiscal transparency platform.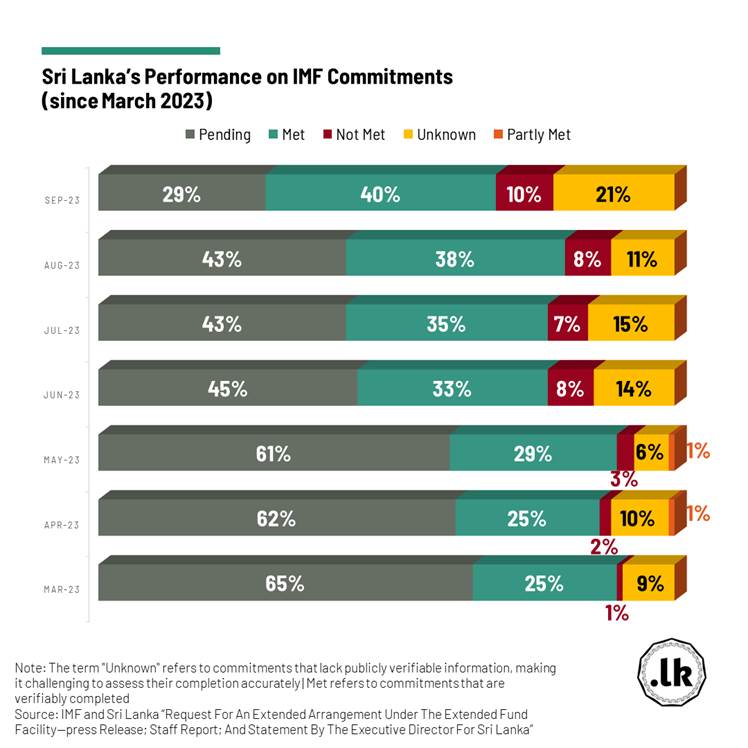 This was due in March, but remains not met even at the end of September. The need for such a platform was underscored in both the governance diagnostics published for Sri Lanka – one by Sri Lanka's Civil Society, and the other by the IMF. The only transparency commitment that was met by the government was the publication of the IMF governance diagnostic, which was also published by the IMF. Transparency is foundational to public accountability in a democratic system. Yet, data from the IMF Tracker suggests that Sri Lanka has a twin deficit in transparency. The two governance diagnostics done indicate that Sri Lanka's economic issues cannot be resolved unless the government first addresses its accountability shortfalls. If these assessments are accurate, the twin transparency deficit could be a leading indicator that the anticipated economic recovery may not materialize as expected.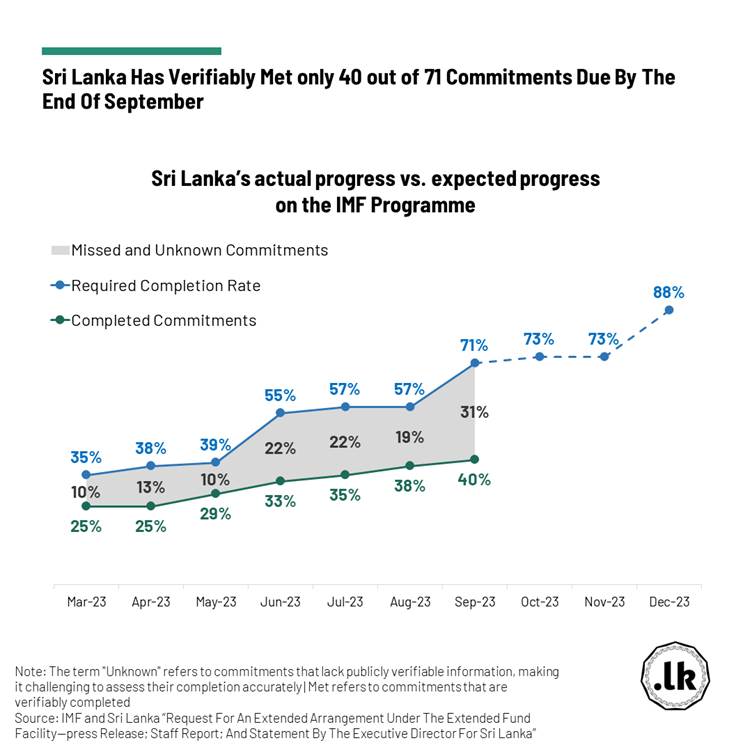 IMF Tracker is the first and only platform in Sri Lanka which tracks the 100 identified commitments recorded along with Sri Lanka's letter of intent to the IMF on the programme approved on 20 March 2023.  It is available for the public on the
manthri.lk
website at
https://manthri.lk/en/imf_tracker