Light Combat Aircraft: US-Backed FA-50 Takes A Clear Lead, JF-17 Banks On Chinese Push, But Tejas Is The Real Darkhorse
By Air Marshal Anil Chopra
The Turkish Aerospace Industries TAI Hürjet prototype made its first flight on 25 April 2023. This brought another competitor in the world's light fighter aircraft market, which was already seeing comparisons and competition amongst the HAL Light Combat Aircraft (LCA) 'Tejas,' CAC/PAC JF-17 'Thunder' and KAI FA-50.
Meanwhile, the Indian Air Force (IAF) has decided to order an additional 100 LCA Mk1A, making the Mk1 orders above 200.
The global air forces are looking for cheaper fighters to make good numbers. They are evaluating based on capabilities, cost, maintenance, and logistic support in times when supply-chain dynamics have become important. Let us look at these.
India's HAL 'Tejas'
The HAL Tejas program began in the 1980s. The aircraft made its maiden flight in 2001. It is the smallest and lightest in its class of contemporary supersonic combat aircraft. Extensive use of composites has been made.
Around 40 aircraft have been built. Thirty-four of them are with the IAF in two squadrons, the first of which was formed in 2015. The aircraft had the initial operational clearance in 2011 and final operational clearance in 2019. This indicates the slow design, development, and production rates.
Currently, three variants are flying, the Tejas Mk1, Mk1A, and a trainer version. The IAF has ordered 32 Mk1, 73 Mk1A and 18 Mk1 trainer aircraft.
LCA Mk1A made its maiden flight in May 2022. The Tejas Mk2 is under development, and the first flight is expected in 2024 and series production 3-4 years later.
As of 2022, indigenous content in the Tejas Mk1 is 59.7% by value and 75.5% by number of line replaceable units. The indigenous content of the Tejas Mk1A is expected to be 50% and rise to 60% by the end of the program.
LCA Mk1 and Mk1A use the General Electric F404-GE-IN20 engines. It has aerial refueling. Tejas has eight hard points. The Tejas weapon suite consists of I-Derby ER and Astra beyond visual range air-to-air missiles and R-73, Python-5, and ASRAAM close combat missiles.
The BrahMos-NG supersonic cruise missile is being developed for the Tejas. The Astra BVRAAM has already been test-fired. The aircraft has a Russian GSh-23 gun. A host of other weapons are being integrated.
The MK1A will have EL/M-2052 AESA Radar and later indigenous Uttam AESA Radar, a self-protection jammer, updated avionics and electronic warfare capabilities, and DRDO-developed Onboard Oxygen Generation System (OBOGS), among other improvements.
DRDO labs will supply many locally developed critical avionics and upgrades, including flight control computers, Radar Warning Receivers, Head-up displays, etc. The Israeli DASH IV HMDS is used. It will carry a podded Elta ELL-8222WB self-protection jammer, the Rafael Litening III targeting/reconnaissance pod, and later the Litening 4I pod, and it will have software-defined radio-based secure communications and network-centric warfare capabilities. The Martin-Baker 16LG zero-zero ejection seat will be used.
LCA Mk1's max take-off weight is 13,500 kg. Internal fuel capacity is 2,458 kg with two 1,200-ltr external wing tanks and one 725-ltr fuselage tank. The ferry range is 1,850 km, and the combat range is 500 km. The thrust/weight ratio is 1.07.
The first Mk1A is expected to be delivered by March 2024. On 10 April 2023, HAL started a third production line at its Nashik Division that will increase production from 16 to 24 aircraft per year.
Tejas also has a naval variant that has landed and performed a ski-jump take-off on the aircraft carrier INS Vikramaditya and the indigenous aircraft carrier INS Vikrant.
Based on open sources, the LCA Program has spent an equivalent of ₹123 billion ($1.47 billion). Kaveri engine program spent roughly ₹24 billion ($300 million). HAL has ordered 99 GE-404 engines for nearly $750 million.
Flyaway costs of Mk1 are around ₹348 crore ($44 million). India has been trying to sell the LCA Mk1. The potential countries have been Indonesia, Egypt, Malaysia, Sri Lanka, Vietnam, and Botswana.
LCA has had failed bids with Argentina because the UK supplied items such as ejection seats, among others. Australian bid for 35 Tejas LIFT could not proceed forward due to Australia choosing to upgrade the BAE Hawks.
The Malaysians finally ordered 18 KAI FA-50 Block 20 aircraft. The FA-50 was chosen because of it being a tried-and-tested platform in service with numerous countries, while the Tejas was only with India.
The Philippines dropped the Tejas, preferring to choose between F-16V Block 70/72 and the JAS-39 Gripen C/D. Cash-strapped Sri Lanka decided to overhaul their Kfirs instead of buying new aircraft. The UAE dropped LCA and placed an order for 80 Rafale F4s from France and 12 Hongdu L-15 trainer and light combat aircraft from China.
KAI FA-50
Korea Aerospace Industries (KAI) and Lockheed Martin have jointly developed the supersonic T-50 advanced jet trainer, with TA-50 being the Lead-in fighter trainer and FA-50 as a light combat aircraft variant.
The T-50 partly resembles the F-16 Fighting Falcon and is 80% of the size. The development of the aircraft began in the 1990s and was funded 70% by the South Korean government, 17% by KAI, and 13% by Lockheed Martin.
The aircraft made its first flight in August 2002 and was introduced in service by February 2005. A multi-role variant was also considered but was later shelved.
KAI and Lockheed Martin pursued a joint marketing program for the T-50 internationally. The aircraft variants are being operated by the Republic of Korea, Indonesia (22 since 2014), Philippines (12 ordered in 2014, more expected), Thailand (12 since 2015), Iraq (24 since 2016), Poland (ordered 48 in 2022), and Malaysia (18 in 2023). Nearly 200 have already been built. KAI will set up a service center in Poland due to its larger order.
The T-50 is equipped with a GE F404 engine built under license by Samsung Techwin. GE provides engine kits to Samsung Techwin, which also produces some parts and performs final engine assembly and testing.
The fighter/attack variants are equipped with the Elta EL/M-2032 fire control radar, the same as on the initial LCA MK1. The TA-50 can operate as a full-fledged combat platform with PGMs, air-to-ground weapons, and air-to-air missiles.
The TA-50 can carry pods for reconnaissance, targeting assistance, and electronic warfare. Reconnaissance and electronic warfare variants are also being developed, designated RA-50 and EA-50, respectively.
The TA-50 has a three-barrel cannon version of the M61 Vulcan mounted internally. Wingtip rails can accommodate the AIM-9 Sidewinder missile, and a variety of additional weapons can be mounted on underwing hard points.
South Korea is considering arming the FA-50 with a smaller version of the Taurus KEPD 350 missile to give it a stand-off engagement capability of 400 km. The aircraft has an internal fuel capacity of 2,655 liters. 1,710 liters can be carried in the three external fuel tanks.
The aircraft has a max take-off weight of 12,300 kg. The ferry range is 1,851 km, and the thrust/weight ratio is 0.96. The seven hard points can take up to 5,400 kg payload.
The FA-50 can carry more internal fuel, and the engine could be either Eurojet EJ200 or General Electric F414, giving up to 25% higher thrust. Other AESA radars, such as Raytheon's AN/APG-79 and Northrop Grumman's AN/APG-83, are options for future production.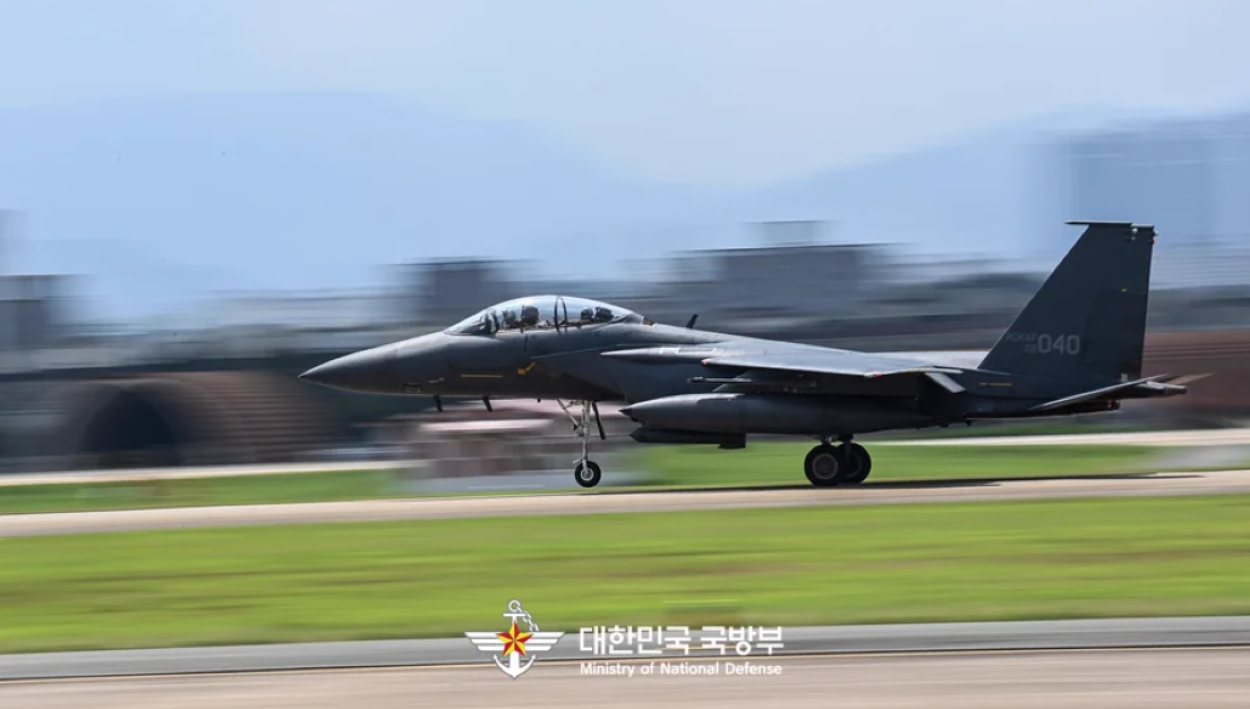 Samsung Thales is also independently developing a domestic multi-mode AESA radar for the FA-50. The maiden flight of the FA-50 took place in 2011. 60 FA-50 aircraft were ordered by RoK AF.
In January 2019, KAI began development on an improved FA-50 known as block ten and block 20 upgrades. The Block 20 adds munitions such as the AIM-120 AMRAAM. Raytheon PhantomStrike and Northrop Grumman AN/APG-83 were being considered as the future AESA radars.
MBDA has offered to integrate the Meteor and ASRAAM medium and short-range air-to-air missiles on FA-50 and future KF-X fighter jets.
In February 2023, KAI announced the signing of a $920 million deal with Malaysia for the purchase of 18 FA-50 Block 20. The FA-50 was in competition with the Indian HAL Tejas, Italian Alenia Aermacchi M-346 Master, Turkish TAI Hürjet, Chinese Hongdu L-15, Russian Mikoyan MiG-35, and Sino-Pakistani JF-17 Thunder.
Malaysia may order 18 more FA-50s later. The deal gives an idea of aircraft cost. Prospective customers include Azerbaijan, Bolivia, Brunei, Colombia, Croatia, Pakistan, Spain, Slovakia, the United Arab Emirates, the United States, and Vietnam.
Among the failed bids were from Argentina because of the British ejection seat. Israel chose the M-346s instead. So did Singapore. Taiwan decided to build 66 AIDC T-5 Brave Eagle supersonic trainers based on their existing AIDC F-CK-1 Ching-kuo fighters. The United States chose the Boeing's T-7 trainer. Due to political considerations related to Uzbekistan, the US refused to approve the sale.
CAC/PAC JF-17 Thunder
The JF-17 Thunder is a lightweight, single-engine, multi-role combat aircraft designed and developed by China's Chengdu Aircraft Corporation (CAC), along with the Pakistan Aeronautical Complex (PAC).
It is meant for use by the Pakistan Air Force (PAF) and for export. Pakistan had to move away from the US after sanctions were imposed in 1989.
The development of this aircraft was headed by Yang Wei, who also designed the Chengdu J-20. The aircraft made its first flight in China in 2003 and joined PAF in February 2010.
Production began in Pakistan in 2008. The JF-17 was first displayed internationally at the 2010 Farnborough Airshow. The aircraft can deploy diverse ordnance, including air-to-air, air-to-surface, anti-ship missiles, guided and unguided bombs, and a 23 mm GSh-23-2 twin-barrel gun (same as LCA).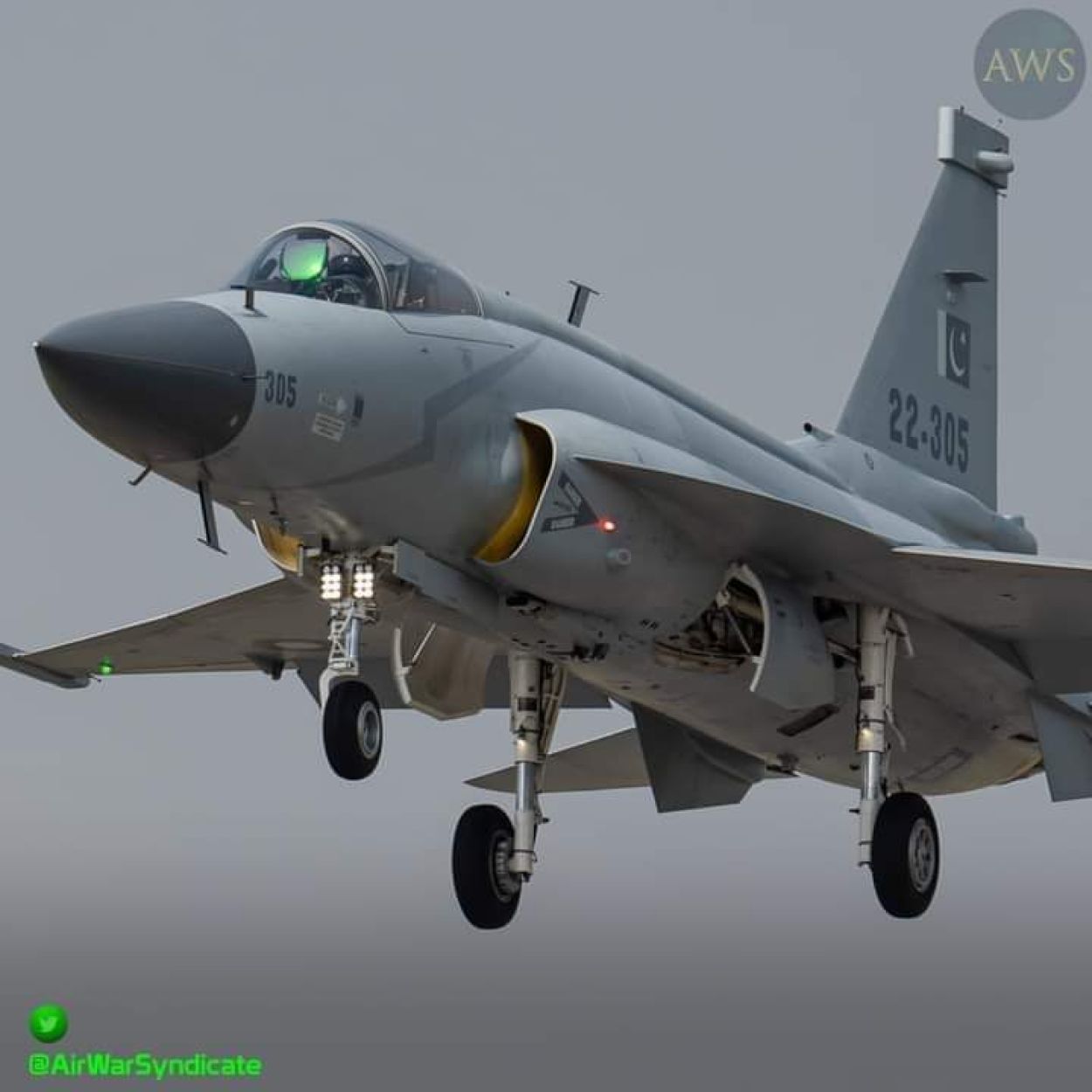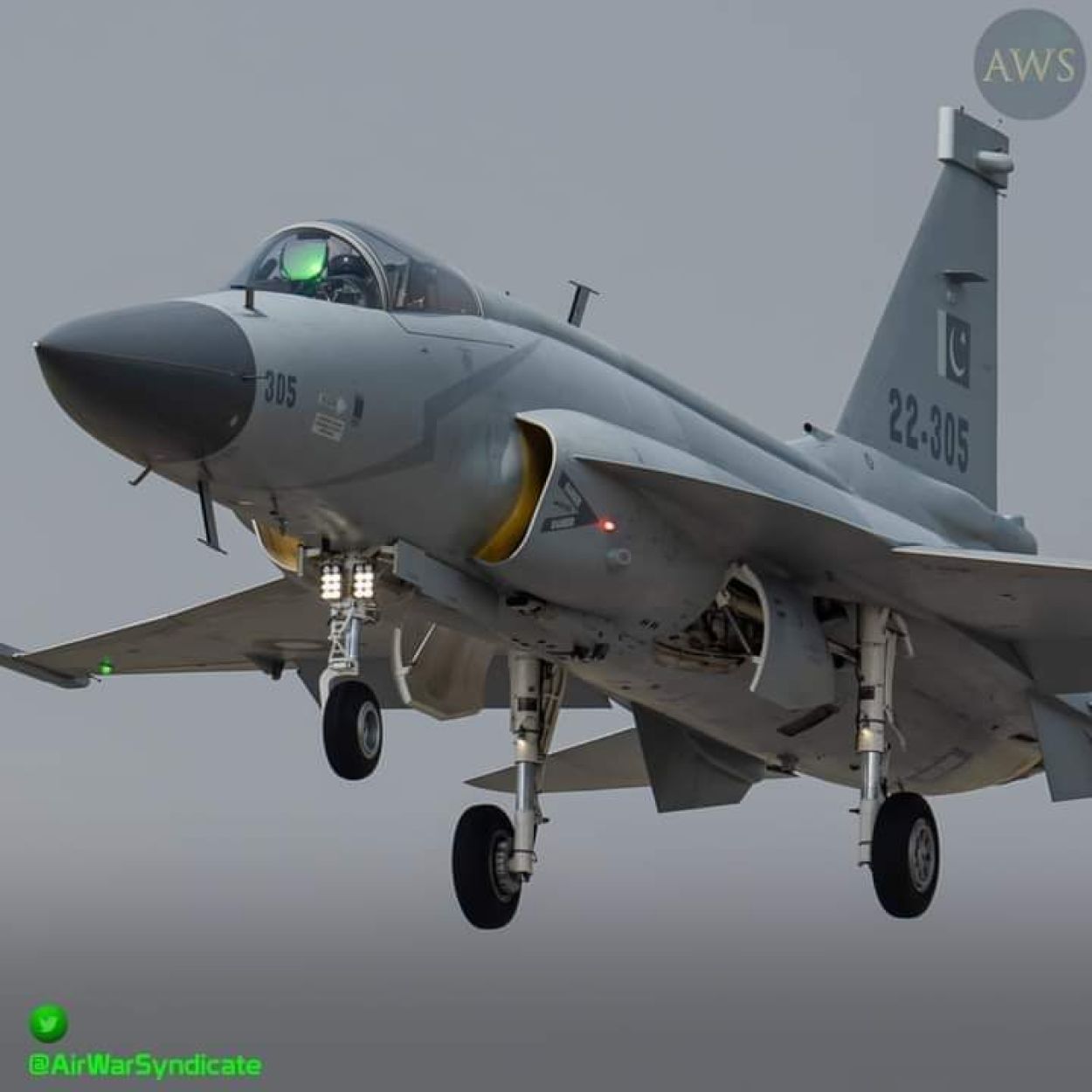 The aircraft was initially powered by a Russian Klimov RD-93 engine and later by the Chinese Guizhou WS-13 engine. An improved version of the WS-13, developing a thrust of around 100 kN, is reportedly under development.
The JF-17 is now the backbone and workhorse of the PAF. The Block II variant costs $25 million. The JF-17's low cost is due to some of the onboard systems having been adapted from the Chengdu J-10.
58% of the JF-17 airframe, including its front fuselage, wings, and vertical stabilizer, is produced in Pakistan. 42% is produced in China.
PAC has the capacity to produce 20 JF-17s annually. By 2017, PAC had manufactured 70 Block 1 aircraft and 33 Block 2 for the PAF. In 2017, a dual-seat variant, JF-17B, was developed.
26 JF-17B Block-2 were delivered to the PAF by the end of 2020. In December 2020, PAC began serial production of a more advanced Block-3 version, which has a Chinese AESA radar, a helmet-mounted display (HMD), and, reportedly, an internal infrared search and tracking (IRST) system.
The Russians cleared to sell a large number of more powerful Russian Klimov RD-93MA engines despite Indian protests. The aircraft also got a cockpit and avionics upgrade. In March 2023, the first batch of JF-17C Block-3 aircraft was inducted into the PAF.
JF-17 Block 3 is claimed to be a "fourth generation plus" fighter. Block-3 has the Chinese KLJ-7A AESA radar, a variant of the KLJ-10 radar developed for the J-10. It has a 105 km (look-up) and 85 km (look-down) range and is licensed produced in Pakistan.
The EW suite is also linked to a Missile Approach Warning (MAW) system to defend against radar-guided missiles, the same as in J-10. There is a countermeasures dispensing system with decoy flares and chaff. There is an external self-protection radar-jamming pod.
The aircraft has an internal fuel capacity of 3,000 Litres. The thrust-to-weight ratio is 0.99 with full internal fuel. External fuel tanks are 2x 1,100 liter on wings and one 800 liter on fuselage.
The aircraft has in-flight refueling. Max take-off weight is 13,500 kg. The Max payload is 3,700 kg. The aircraft has four hard points under the wings, one under the fuselage, and two on the wingtips.
The wingtips can carry only the lighter close-combat missiles. The Chinese PL-12/SD-10 is the primary BVR AAM. Short-range, infra-red homing missiles include the Chinese PL-5E and PL-9C. The PAF is also seeking to arm the JF-17 with the PL10E IRIS-T or A-Darter.
PAF has 150 aircraft delivered and 38 on order. JF-17s are operational in seven PAF fighter squadrons based at five airbases. PAF JF-17s have taken part in joint Shaheen exercises with the Chinese PLAAF. In 2021, PAF JF-17s exercised in Anatolian Eagle, Turkey. In 2022, PAF JF-17s exercised at "Spears of Victory" in Saudi Arabia.
In 2015, Myanmar ordered 16 Block-2 aircraft for approximately $560 million. Nearly seven have been delivered. Myanmar Air Force has been facing serious technical issues.
In November 2022, it was reported that most of the newly acquired aircraft had been grounded due to structural cracks and other technical issues. Nigeria became the second customer in 2018 by placing an order for three Block-2 planes for US$184.3 million that were formally inducted on 21 May 2021.
PAF JF-17s saw military action, bombing terrorist positions in North Waziristan as part of anti-terror operations and in Operation Swift Retort in 2019. Nigerian Air Force (NAF) JF-17s have seen military action in anti-terrorism and anti-insurgency operations in Nigeria.
The potential buyers for the aircraft are Argentina, but the British ejection seat and some other systems have been an issue. China has reportedly offered the Chinese-origin HTY-5D ejection seat (used on the Chengdu J-10).
In May 2022, the Argentine Air Force delegation evaluated the JF-17 Thunder in China. No decision has been taken as of date. Azerbaijan, eyeing military cooperation with Pakistan, expressed its interest in purchasing JF-17.
Bolivia may be interested. China has offered it to Congo. Iraq was a contender. Malaysia finally chose FA-50 Block 20 jets in March 2023. Morocco, Sudan, Zimbabwe, and Qatar have shown interest. Saudi Arabia has been examining. Bangladesh, Bulgaria, Egypt, Jordan, Kuwait, Peru, South Africa, Uruguay, and Venezuela were being wooed by China. No deals have come through. Sri Lanka issued denials of any deal.
TAI Hürjet
The Turkish Aerospace Industries (TAI) supersonic advanced jet trainer, Lead-in fighter trainer/Light combat aircraft made its first flight on 25 April 2023. With a max take-off weight of just 6,500 kg, it is lighter. It is powered by one F404-GE-102 engine.
It is meant to replace Turkey Air Force's Northrop T-38 Talon trainer and supplement the F-16s in close air support role. A naval version may also be developed.
Hürjet is tailored to become a fifth-generation training aircraft. The certification is targeted to be completed by the end of 2025. Turkey requires 70 aircraft, and it would need international customers. TAI aims to produce 24 aircraft a year after 2025.
Comparative Analysis
Purely on capability and technology levels, LCA Mk1A would be better than all competition. Aircraft is a futuristic design and also scores very high in performance. It is a single-country project but will remain dependent on significant imported systems such as the engine, ejection seat, AESA support and components, some weapons, and avionics.
Import content won't reduce much soon enough. It is costlier. However, the aircraft has an excellent safety record. The production has to be scaled up. IAF has a significant stand-alone order. Indian Navy may also order. India's marketing push has not been sufficiently aggressive. LCA has clear follow-on projects in place.
JF-17 is already being produced in larger numbers. It has the backing of Chinese tried and tested technology, albeit far behind the Western systems. The Chinese AESA and some avionics are not of the class of LCA.
It has the advantage of the latest Chinese missiles. The production quality has also been questioned, with skin cracks being reported. The RD 93 engine is not so fuel efficient, though supplies are in place. Aircraft is cheaper. The sales have aggressive Chinese push and backing. But only two countries have ordered very small numbers, and they, too, have been facing maintenance issues.
KAI FA-50 has the huge backing of Lockheed Martin and the US. South Korea itself has a high techno-industrial base, and most systems are being produced locally. It has already managed to find customers, and many have been sold or ordered.
More are likely to be sold in the coming time. TAI Hürjet is still new. It is more of an advanced jet trainer and is less of a direct competition to the LCA class.
For LCA to be able to sell, it first requires to ramp-up production. It needs to increase indigenization because the U.S. or UK could put export restrictions. It has to have a strong government-backed marketing team. As India grows in stature as the leader of the Global South, it must leverage diplomacy.
Air Marshal Anil Chopra (Retired) is an Indian Air Force veteran fighter test pilot and is currently the Director-General of the Center for Air Power Studies in New Delhi. He has been decorated with gallantry and distinguished service medals while serving in the IAF for 40 years. He tweets @Chopsyturvey