Major Indian conglomerate accuses FT of destabilization attempt
Adani Group has lashed out at the UK newspaper for "raking up an old, baseless allegation"
Adani Group, fronted by India's second-richest man, Gautam Adani, has accused the Financial Times of a
"renewed attempt"
to tarnish the company's reputation after it reported on allegations of the overinflation of coal imports. The UK newspaper is making
"another effort to financially destabilize the Adani Group by raking up an old, baseless allegation of over-invoicing of coal imports,"
the conglomerate said in a statement on Monday. The story was based on a dismissed appeal withdrawn by the Supreme Court of India in January, the company noted.
"The issue of overvaluation in the import of coal was conclusively settled by India's highest court of law. It [sic] shows scant respect for India's regulatory and judicial processes and authorities,"
the statement cadded. The story referenced allegations of stock-trading violations made in August by the Organized Crime and Corruption Reporting Project (OCCRP), an international investigative platform known for its work on the 'Panama Papers' and 'Pandora Papers'. The OCCRP investigation, details of which first appeared in the Financial Times and The Guardian, accused the Adani family of
"secretly investing hundreds of millions of dollars into the Indian stock market, [and] buying its own shares."
In the wake of the new report, shares in listed Adani Group companies dropped by over 2%. According to Adani Group, the FT report was
"clever recycling and selective misrepresentation of publicly available facts and information with a deliberate and mischievous suppression of judicial decisions to arrive at a predetermined conclusion."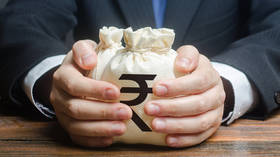 The conglomerate pointed out that the list mentioned in the story names 39 other importers, including other major Indian companies such as Reliance Infra, JSW Steels, and Essar, as well as power-generation companies from Indian states including Karnataka, Gujarat, Haryana, and Tamil Nadu. An earlier report published by US-based short-seller Hindenburg Research accused Adani Group of
"improper business dealings.
" Describing the entity as
"highly overvalued,"
the report claimed that it had
"engaged in a brazen stock manipulation and accounting fraud scheme over the course of decades."
These caused the valuation of the group, as well as the personal net worth of its chairman, to take a massive dip. The Hindenburg report triggered a stock-market rout that cost Adani Group about $145 billion in market value at its lowest point. In Monday's statement, Adani Group claimed that the OCCRP's main intent was to drag down the company's market value, with the support of a
"section of the foreign media, short-sellers, and domestic collaborators."
"The OCCRP is funded by George Soros, who has openly declared his hostility against the Adani Group,"
the conglomerate added. In February, billionaire American financier Soros targeted Indian Prime Minister Narendra Modi in a public speech, claiming that
"Modi and business tycoon Adani are close allies; their fate is intertwined."
You can share this story on social media: