Major League Cricket welcomes Royal®Brand as official partner for inaugural season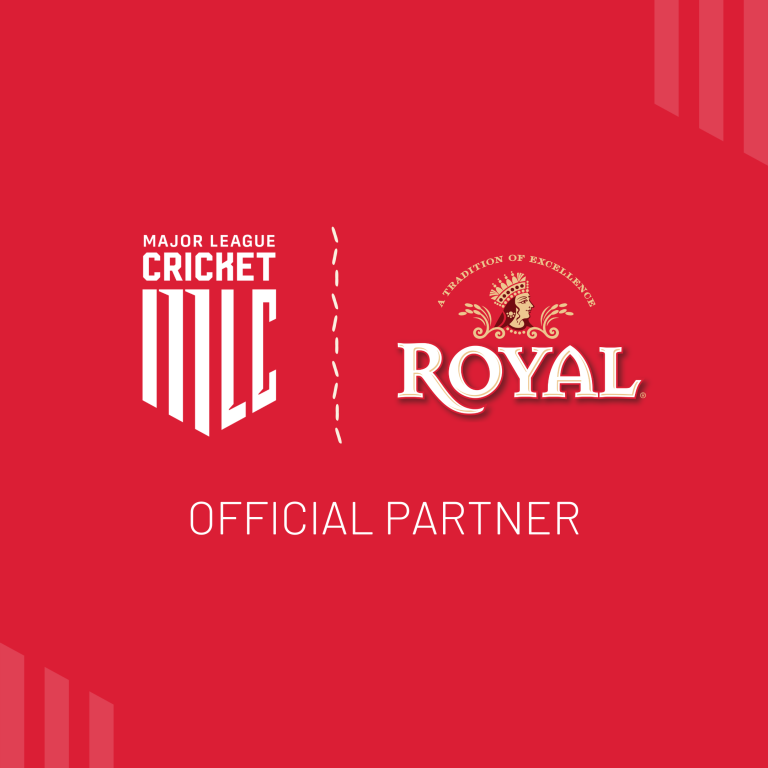 SAN FRANCISCO, CA:
Major League Cricket (MLC) is delighted to announce that the
Royal®brand
, cultivators of authentic Basmati and Sona Masoori rice, Atta Wheat Flour, and Indian Ready Meals, will bean official partner of the league for its inaugural season this summer. Recognized as the #1 brand of Basmati Rice and Sona Masoori Rice in America, Royal®, the U.S.-based Indian foods brand, will recognize cricket excellence through sponsorship of the inaugural award forMLC's leading run scorer for the 2023 season.  The award for the "Royal Leading Run Scorer" will be given out on July 30, at the Grand Prairie Stadium in Grand Prairie, Texas. Royal® will also provide branded giveaways to fans and serve up distinctive South Asian dishes at select MLC matches. The experience of high-energy Major League Cricket matches coupled with Royal delivers fans an authentic taste of India. "We're excited to partner with
Major League Cricket
to bring the culture, cuisine and vibrant flavors of South Asia to cricket fans in the United States," said Abhinav Arora, president of LT Foods Americas, the renowned global culinary enterprise behind the Royal®brand. "Much like cricket, the love for Royal® Basmati Rice transcends borders and cultures and we're excited for fans of all backgrounds to experience the joy of cricket and delicious authentic Indian foods that are a source of comfort and celebration." "MLC is thrilled to welcomethe Royal® brand onboard as an official partner. Royal® has proven to be a strong supporter of American cricket sharing MLC's long-term vision to build the sport for the vast community of fans of the game here in the United States," said Justin Geale, MLC Tournament Director. "We can't wait to see which superstar player captures the Royal® Leading Run Scorer award this summer!" The first-ever MLC match will take place on Thursday, July 13, under the lights at America's new premier cricket venue, Grand Prairie Stadium, near Dallas, Texas. Eighteen more matches will follow leading up to the inaugural MLC championship final on Sunday, July 30, with six teams set to compete: the Los Angeles Knight Riders, MI New York, San Francisco Unicorns, Seattle Orcas, Texas Super Kings and Washington Freedom. Major League Cricket will feature many of the best T20 players from around the world in its inaugural season playing alongside the strongest domestic talent in the United States. Overseas star players announced so far include Australia's Aaron Finch and Marcus Stoinis, South Africa's Quinton de Kock, Wayne Parnell, Anrich Nortje and Marco Jansen along with Sri Lankan spinner WaninduHasaranga. For more information about Royal, please visit
authenticroyal.com
and visit them on
Facebook
, 
Instagram
,
Pinterest
 and 
YouTube
.To learn more about Major League Cricket please visit
majorleaguecricket.com
or contact
[email protected]
.
About Major League Cricket
Major League Cricket will be the first professional Twenty20 cricket championship in the United States, launching in the summer of 2023. Exclusively sanctioned by USA Cricket, Major League Cricket will feature top players from around the globe while also providing an opportunity for domestic cricketers to showcase their talents to a global audience, bringing world-class T20 cricket to America for the first time. For more information, visit
www.majorleaguecricket.com
and follow MLC on Twitter at
www.twitter.com/MLCricket
About Royal®
For over 30 years, the Royal® Brand has been providing consumers with the ingredients to create delicious, authentic Indian meals and the memorable moments of comfort, celebration, and excitement around them. Royal's commitment to quality, authenticity and sustainability has made it the #1 brand of Basmati rice and the #1 brand of Sona Masoori rice in the U.S. Proudly grown in India, Royal is on a mission to bring people together over food, blending cultures, flavors, and traditions to help consumers create, express, and share the many flavors of life.   For more information about Royal and the brand's roster of authentic Indian products, please visit 
authenticroyal.com
 and join us on 
Facebook
, 
Instagram
, 
Pinterest
 and 
YouTube
.
About LT Foods
LT Foods is a renowned, global leader in Indian foods, with a successful legacy marked by three generations and 70 years as a family-run business. With a deep-rooted commitment to nurturing the goodness of food for individuals, communities, and the planet, LT Foods has established itself as a trusted name within the industry. LT Foods delivers the finest quality and authentic taste experiences in more than 60 countries, spanning across regions such as India, the United States, Europe, the Middle East, the Far East, and more. The company's diverse portfolio includes the highly acclaimed Daawat®, one of India's most loved and consumed Basmati brands, and Royal®, a leading Indian foods brand known as the #1 brand of Basmati in the US. The company is also proudly expanding by offering organic staples through the brand Ecolife® in markets across the globe and supplying organic agri-ingredients to leading businesses. For more information about LT Foods please visit
ltgroup.in/.