People's Bank Platinum Sponsor for 'Presidential Export Awards – 2023'
Colombo (LNW): People's Bank has joined hands with the Sri Lanka Export Development Board (EDB) as the Platinum Sponsor for the prestigious 'Presidential Export Awards 2023', highlighting their commitment to promoting excellence in exports.
This partnership was formalised when Mr. Sujeewa Rajapaksa, Chairman of People's Bank, symbolically presented a patronage cheque to Dr. Kingsley Bernard, Chairman/CEO of the Export Development Board.
The event took place at the People's Bank headquarters on October 27, 2023.
The Presidential Export Awards (PEA), renowned as the highest recognition for exporters in Sri Lanka, will mark its 25th anniversary on Thursday, November 23rd, at the Bandaranaike Memorial International Conference Hall (BMICH).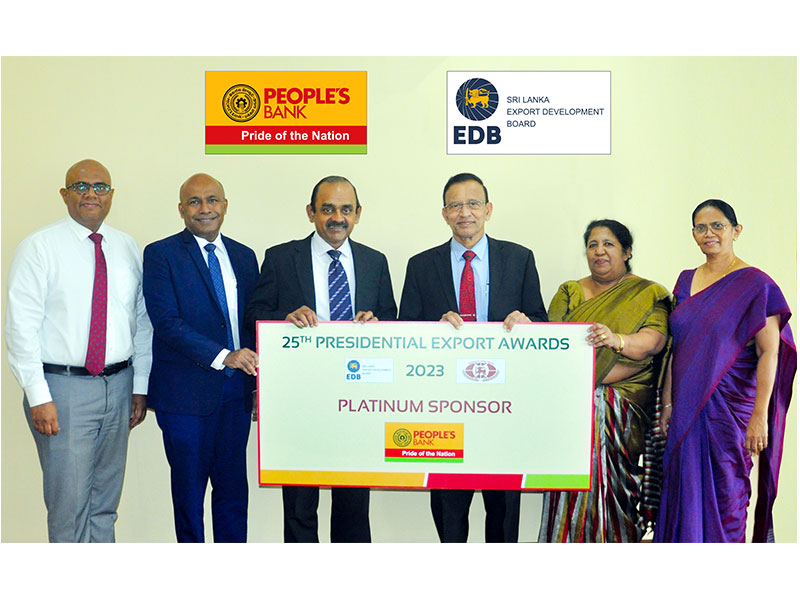 The awards ceremony will celebrate the outstanding contributions of the country's top exporters to the export sector and economic progress for the financial years 2021/22 and 2022/23. The awards will be presented in two main categories: overall awards and Products & Services Sector awards for each financial year, by President Ranil Wickremesinghe of Sri Lanka.
People's Bank's corporate sponsorship demonstrates their dedication to enhancing Sri Lanka's exports and is expected to contribute to the success of the PEA 2023.
The Presidential Export Awards 2023 is eagerly anticipated by the exporter community and is organised by EDB under the guidance and direction of State Minister of Investment Promotion Dilum Amunugama, and Mr. M. M. Nayeemudeen, Secretary to the Ministry of Investment Promotion.