SLT-MOBITEL named principal sponsor for IESL Techno Exhibition 2023
Colombo (LNW): SLT-MOBITEL, the National ICT Solutions Provider, is delighted to announce its position as the Main Sponsor for the eagerly awaited IESL Techno Exhibition 2023, taking place from 20th to 22nd October 2023, at the BMICH, Colombo.
This exhibition, the annual premier event organised by the Institution of Engineers Sri Lanka (IESL), acts as a stage to present the country's most recent technological breakthroughs and innovations across various sectors.
By being the main sponsor, SLT-MOBITEL is underscoring its dedication to furthering technological advancement and stimulating innovation within Sri Lanka.
This collaboration with IESL Techno Exhibition 2023 cements the company's role as a pivotal figure in the telecommunications and technology sectors and accentuates its commitment to supporting events that encourage knowledge exchange and industry growth.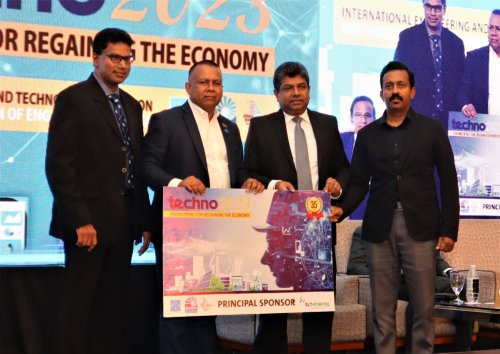 The IESL Techno Exhibition 2023 is an essential congregation of industry experts, engineers, and innovators who unite to delve into state-of-the-art technologies, share thoughts, and propel advancement in their specific fields.
Over the three days, the event will showcase the newest innovations, products, and talents from across the globe, all the while upholding rigorous standards.
Suppliers, representatives, national policymakers, engineers, and consumers can attend the three-day exhibition, getting a first-hand look at the latest technology all under one roof.
With the backing of SLT-MOBITEL, the exhibition is set to be a vibrant and influential platform, spotlighting the latest progress in telecommunications and related industries.
The exhibition's theme, 'Engineering for Economic Revival', resonates deeply with SLT-MOBITEL's mission to accompany the nation on its path to economic rejuvenation and affluence.
Recognising the pivotal role engineering has in infrastructure growth, technological progression, and industrial output – all crucial for reinvigorating and fortifying the country's economy – SLT-MOBITEL remains steadfast in delivering state-of-the-art solutions and services that bolster engineering ventures and creative engineering solutions.
As the main sponsor, SLT-MOBITEL seeks to offer a distinct value proposition to Techno 2023 and its participants. Attendees can count on consistent and uninterrupted connectivity during the event, facilitating smooth cooperation and knowledge exchange.
Additionally, by offering resources and networking chances, SLT-MOBITEL will cultivate an environment that champions and boosts innovative concepts and solutions among Techno 2023 attendees.
In the lead-up to the primary event, the unveiling of Techno Sri Lanka 2023 occurred recently. Janaka Abeysinghe, CEO of Sri Lanka Telecom PLC, spoke to the attendees, stressing the significance of technology, innovation, invention, and engineering for the nation's flourishing.