Sri Lanka meets 33 IMF commitments by end-June, fails to meet 08: Verité Research
Sri Lanka had verifiably met 33 of the trackable program commitments of the International Monetary Fund (IMF) program as at the end of June 2023 but had failed eight, according to the 'IMF Tracker', an online tool launched by Verité Research. Growing number of failed commitments, the number of unfulfilled commitments doubled from four (including one partially met) in May, to eight in June 2023. These include, obtaining Cabinet approval for the restructuring plan of key State-Owned Enterprises (SOEs), enacting new anti-corruption legislation, publishing the annual reports of all 52 major SOEs for 2022, and preparing a plan to gradually eliminate import restrictions.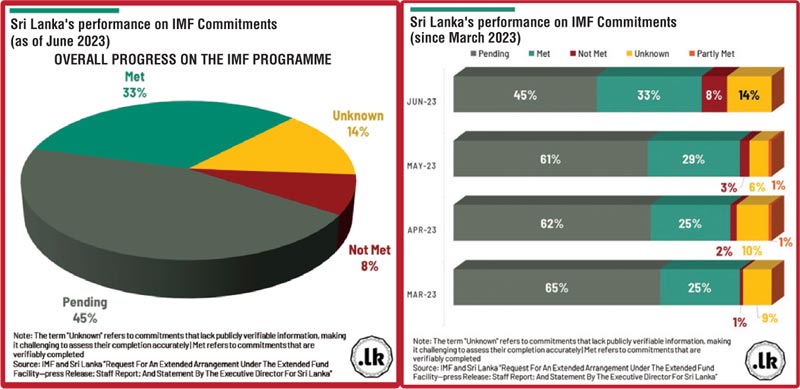 Sri Lanka is mostly failing in two areas: the passage of legislation, and information dissemination. Between March and June, the country committed to enact three significant laws: a revision of betting and gaming levies, enactment of the Central Bank of Sri Lanka Act, and a new Anti-Corruption Act. Drafts of these Bills were published on the website of the Printing Department on 4 April, 7 March, and 27 April 2023, respectively. However, these drafts are still pending Parliamentary approval and enactment. On the information dissemination front, three primary commitments remain unfulfilled. The first is the establishment of a fiscal transparency platform, to semi-annually publish significant public procurement contracts, a list of firms receiving tax exemptions through the Board of Investment, and a list of individuals and firms receiving tax exemptions on luxury vehicle imports. This remains undone. The second commitment pertains to the publication of annual reports for all 52 major SOEs up to 2022. A recent infographic by publicfinance.lk revealed that only 11 out of the 52 key SOEs have published their annual reports up to 2022. This lack of information dissemination can also be seen in the non-publication of a plan to phase out import restrictions.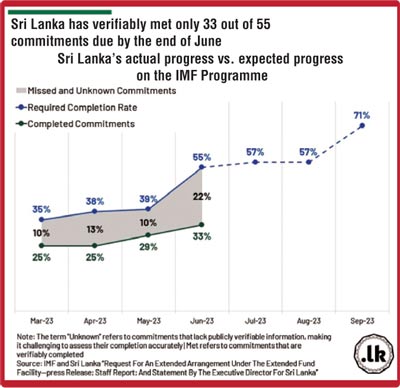 Lack of Information is also a concern. As at end June, the commitments classified as "unknown", where the information required to make an assessment was not available, had risen to 14%, more than double the percentage of the previous month (6%). Verité Research notes that timely progress on the IMF program has two benefits. First, there are the material benefits that can result from many (not all) of the actions. Second, it can improve confidence in Sri Lanka's governance, which then helps negotiations to restructure the burden of past debt and speed up the path to future economic recovery. 'The IMF Tracker' is currently tracking 100 identified commitments recorded along with Sri Lanka's Letter of Intent to the IMF on the program approved on 20 March 2023. The platform will assist the Government and people of Sri Lanka, as well as the IMF, to better understand and track Sri Lanka's progress and timeliness on meeting these commitments. The IMF Tracker is now available to the public on manthri.lk – an online platform run by Verité Research – tracking the actions and performance of Sri Lanka's Parliament. For more information, please visit:
https://manthri.lk/en/imf_tracker
Source:
DailyFT