Tamil Heritage Month at University of Toronto Scarborough was about more than just language
A language is never just that. It holds within it a culture, an identity and the ability to tie people together in the bonds of community.
This was the overarching theme when, after three years of gathering virtually, the Tamil community from across the Greater Toronto Area came together for a Tamil Heritage Month celebration at University of Toronto Scarborough (UTSC) on Jan. 19.
One of the world's oldest living languages, Tamil is among the 25 most spoken languages globally. Apart from 80 million native speakers in South Asia, members of the Tamil diaspora also flourish globally, from Australia to France, the Middle East and North America, connected not just by language but by a rich heritage that has survived millennia, and continues to evolve.
The drive to preserve the historical roots of this great culture and create opportunities for the younger generations to engage with it led the Canadian Tamil Congress (CTC) and Tamil Chair Inc. to try creating a Chair in Tamil Studies at UTSC, in 2018. What followed was a fundraising campaign like no other.
Over three years, two of them during the pandemic, Tamils across the globe contributed to raise the $3 million needed.
Spearheaded by Sivan Ilangko, CTC president and a director of Tamil Chair Inc., and Toronto-based writer Appadurai Muttulingam, the campaign saw more than 3,500 individual donations and culminated in success in 2021. It was to mark this momentous achievement that promises to impact generations of Tamil speakers, within and outside of Canada, and to celebrate ongoing work being done at the university to promote Tamil heritage, that UTSC hosted the evening bringing together those who made it possible.
Apart from scintillating musical and dance performances by local Tamil artists, the occasion made way for a visual treat resulting from community members getting an opportunity to celebrate traditions through attire, food and cultural festivities. In attendance were not just members of the Toronto Tamil diaspora and campaign donors but also policy leaders who have worked closely with Scarborough and eastern GTA communities to bring their issues to the fore. Gary Anandasangaree, MP for Scarborough—Rouge Park, and Jennifer McKelvie, UTSC alumna and Toronto's deputy mayor, congratulated the audience for their dedication to adding their own magnificent colours to Canada's diverse tapestry.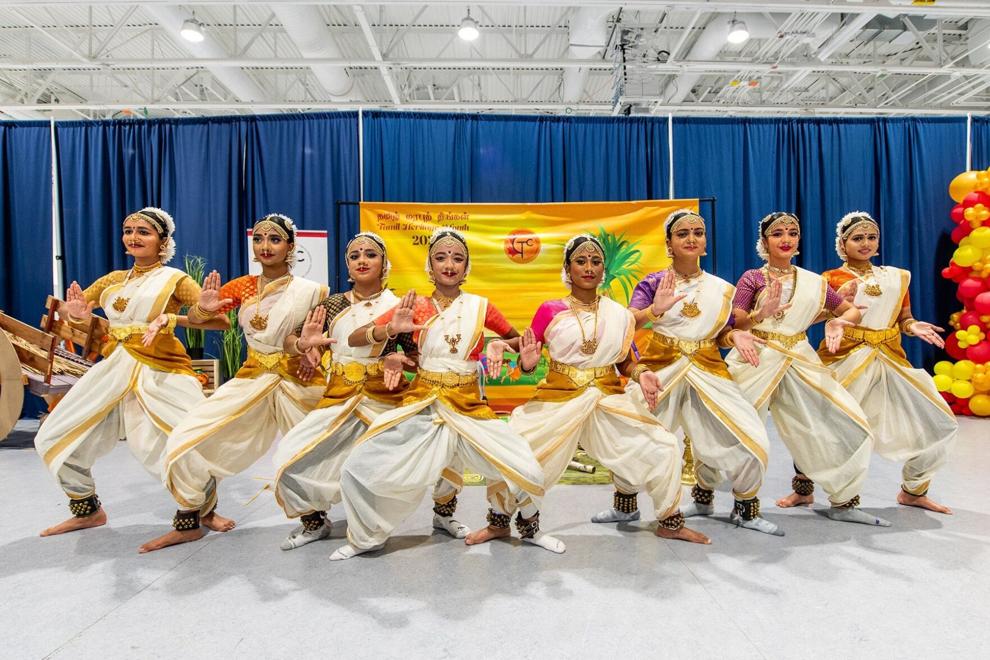 Niro Dance Creation group performers at a 2023 Tamil Heritage Month event at the University of Toronto Scarborough.
By Farrell Tremblay photo
Quoting Tamil poet Thaniyan Poonkunranar, who once said, "Every country is my country, and every person my kin," Ilangko, in an emotional address, reflected on values of inclusivity and diversity that define Tamil culture and the sense of pride every Tamilian should feel in carrying forward the legacy, literature, ethics and language of their heritage.
Being an Indian working with UTSC, the evening evoked a deep sense of fellowship and warmth in me.
Clad in a sari for the first time since landing in Canada in 2018, I absorbed the festive sights and sounds with a deep gratitude for things making us feel like we're a part of something bigger than ourselves. For things like language, community and a chance to celebrate both.
Ravisha Mall is a digital storyteller and a communications specialist at the University of Toronto Scarborough.