Zakat House of Kuwait funds 125 homes for IDPs in Mannar
Colombo (LNW): The foundation stone for the "Kuwait Zakath" Housing Village – Phase 2 in Erukkalampetti, Mannar was laid today (22) under the patronage of Urban Development and Housing Minister Prasanna Ranatunga.
Funded by the Zakat House of the State of Kuwait at the invitation of the Minister of State for Rural Economy, Kader Mastan, this housing development will feature 125 homes.
These homes are designed to aid Internally Displaced Persons (IDPs) beginning resettlement in the Mannar district, with each house receiving Rs. 1.8 million for construction.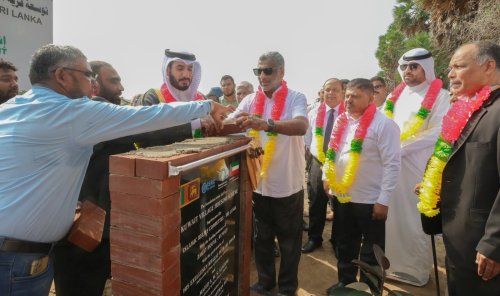 The project's first phase, which already opened, comprised 75 houses and cost Rs. 105 million.
The resettlement of those displaced by conflict is overseen by the Urban Development and Housing Ministry.
Present at the event were the Deputy Ambassador of Kuwait to Sri Lanka, Badar Alno Waim, representatives from Kuwait, Minister of State for Rural Economy Kader Mastan, Director General of Kuwait Zakat House Majed Sulaiman Alazmi, National Housing Development Authority Chairman, Mr. Rajeev Suriyarachchi, Mannar District Manager, Mr. Mohammad Ibrahim, among others.