Gen. Lionel Balagalla passes away
Colombo (LNW):
Former Commander of the Sri Lanka Army and respected Senior Officer, Gen. L P Balagalla RWP RSP VSV USP ndc IG has passed away in Army Hospital, Colombo. His funeral arrangements will be notified later.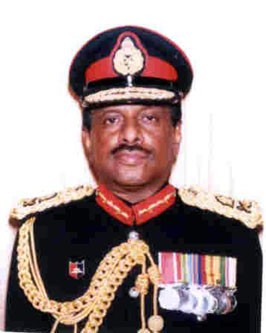 Balagalle pursued medical studies before enlisting in the Ceylon Army as an Officer Cadet on 5 April 1965. After undergoing training at the Army Training Centre in Diyatalawa, he earned his commission as a second lieutenant in the 4th Regiment, Ceylon Artillery on 5 April 1967. Participating in counter-insurgency efforts during the 1971 JVP Insurrection, Balagalle later trained at the Indian Army School of Artillery in Deolali between September 1971 and February 1972. He revisited the institution between August 1977 and September 1978 for advanced training and earned his qualification as an Instructor Gunnery (IG). After completing the Intelligence Staff Officers Course in Pune between August and October 1975, Balagalle took on roles within military intelligence during the 1980s. Holding the position of General Staff Officer and later the Principal Staff Officer of the Joint Operations Command as a major, he significantly influenced the Vadamarachchi Operation and the quelling of the 1987-1989 JVP uprising. In 1989, he furthered his education in the UK, attending the Intelligence Security Administration Course. Promoted to lieutenant colonel, Balagalle held pivotal positions, becoming the inaugural Director of Military Intelligence and Commanding Officer of the Military Intelligence Corps from 1990 to 1994. He took charge of the 4 Brigade, the Artillery Brigade, and Area Headquarters Wanni in 1994. In 1996, he attended the National Defence College. After being promoted to major general, Balagalle led multiple divisions and undertook several military operations. He was soon appointed Deputy Chief of Staff and subsequently Chief of Staff of the Army, also serving as Colonel Commandant of the Military Intelligence Corps between 1997 and 1998. On 24 August 2000, Balagalle was promoted to lieutenant general and assumed the role of Commander of the Sri Lankan Army, marking him as the first officer to receive local training at the Army Training Center and then rise to this rank. Under his leadership, Sri Lankan troops began participating in UN peacekeeping missions. Furthermore, he played a crucial role in establishing the Institute of Peace Support Operations Training in collaboration with the US Army Pacific Command. On 10 October 2003, Balagalle was appointed as the Chief of the Defence Staff (CDS), becoming the first active Army Commander in Sri Lanka to hold this role. As CDS, he notably became the first foreign military leader to visit the line of control post the ceasefire agreement between India and Pakistan. His service also saw him attending major defence conferences in Hawaii and Singapore. Lieutenant General Shantha Kottegoda succeeded him as the Commander of the Army on 30 June, but Balagalle continued as CDS until his retirement on 1 September 2005, achieving the rank of general.